Highlights
Orange Zone are districts which have not seen any new cases in the last 14 days
Green zones are the non-infected districts or districts which haven't reported any new case in the past 28 days
Red zones are those areas where the Coronavirus outbreak has resulted in high number of cases
Hyderabad: After the nation-wide COVID-19 lockdown was extended till May 17, under the new guidelines, a limited number of activities will remain prohibited throughout the country, irrespective of the Zone. These include travel by air, rail, metro and inter-State movement by road; running of schools, colleges, and other educational and training/ coaching institutions; hospitality services, including hotels and restaurants; places of large public gatherings, such as cinema halls, malls, gymnasiums, sports complexes etc; social, political, cultural and other kinds of gatherings; and, religious places/ places of worship for public. However, movement of persons by air, rail and road is allowed for select purposes, and for purposes as permitted by Ministry of Home Affairs.
Movement for non-essential activities will be prohibited from 7 pm to 7 am. In all zones, persons above 65 years of age, persons with co-morbidities, pregnant women, and children below the age of 10 years, shall stay at home, except for meeting essential requirements and for health purposes.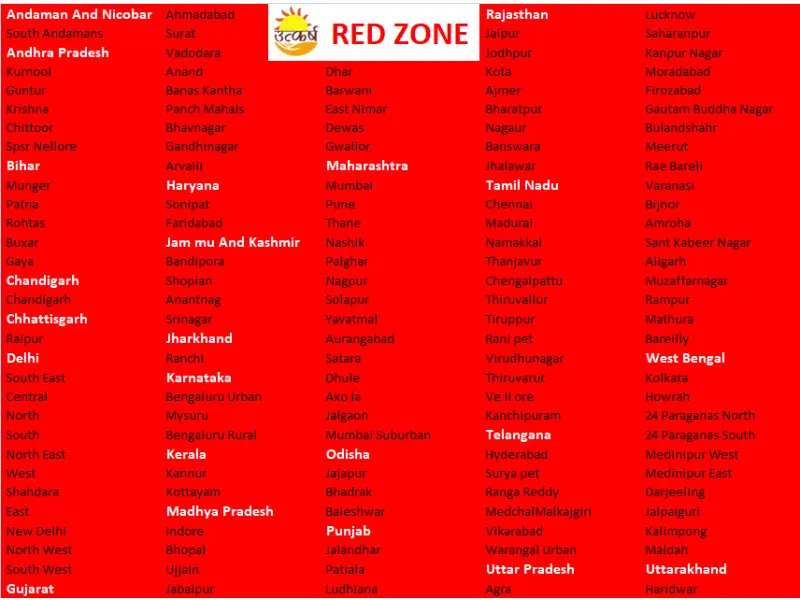 Activities allowed in Red Zone areas with restrictions
Containment zones are considered the most sensitive region, since these areas have significant risk of spreading the infection. Activities that are allowed in Red Zones include:
1. All stand-alone shops, neighbourhood colony shops and shops in residential complexes are permitted to remain open in urban areas, without essential/non-essential distinction.
2. E-Commerce activities, in the Red Zones, are permitted only in respect of essential goods.
3. Private offices can operate with upto 33% strength as per requirement
4. All Government offices shall function with senior officers of the level of Deputy Secretary and above at full strength, and the remaining staff attending upto 33% as per requirement
5. Defense and Security services, Health and Family Welfare, Police, Prisons, Home Guards, Civil Defence, Fire and Emergency Services, Disaster management and related services, National Informatics Centre (NIC), Customs, Food Corporation of India (FCI), National Cadet Corps (NCC), Nehru Yuvak Kendra (NYK) and Municipal services shall function without any restrictions.
6. Industrial and construction activities
7. All agriculture activities, e.g., sowing, harvesting, procurement and marketing operations in the agricultural supply chain are permitted. Animal husbandry activities are fully permitted, including inland and marine fisheries.
8. Banks, non-banking finance companies (NBFCs), insurance and capital market activities, and credit co-operative societies to function.
9. Print and electronic media, IT and IT enabled services, data and call centres, cold storage and warehousing services, private security and facility management services allowed (upto 33 percent strength as per requirement)
Activities not allowed in Red Zones
1. No movement of people in and out of containment zones
2. Medical emergencies allowed, no other movement permitted
3. Residents of containment zone should compulsorily have Aarogya Setu app, local authority to enforce this.
4. Plying of autos, taxis, cab aggregators prohibited
5. Barber shops, spas, saloons not allowed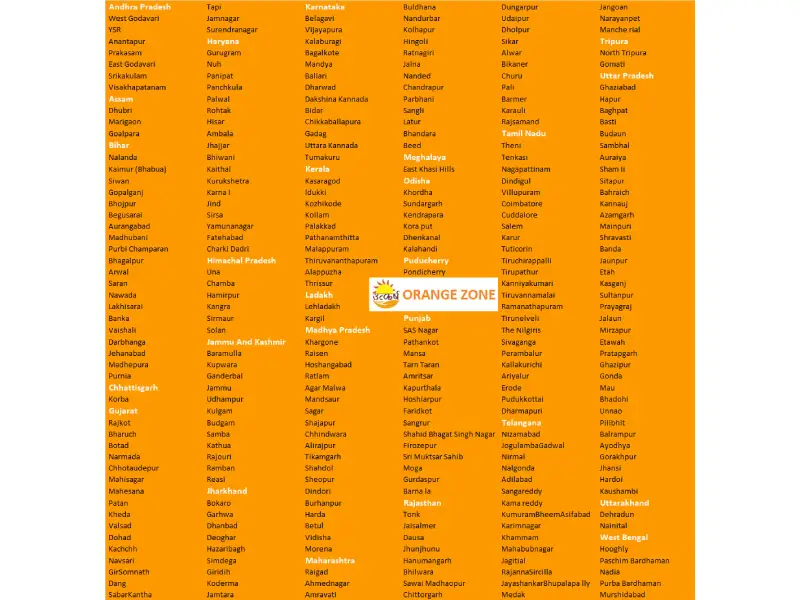 Activities allowed in Orange Zone areas with restrictions
All activities allowed in the red zone are applicable to the orange zone with some additional activities.
1. Taxis and cab aggregators will be permitted with 1 driver and 2 passengers only.
2. Four wheeler vehicles will have maximum two passengers besides the driver.
3. Pillion riding allowed for two-wheelers
4. Inter-district movement only for permitted activities.
Activities allowed in Green Zones
1. Buses can operate with upto 50% seating capacity and bus depots can operate with upto 50% capacity.
2. Apart from prohibited activities irrespective of zone, all other activities are allowed to function.