For fashion enthusiasts, Manish Malhotra is no more the name of a designer. Evolving as a brand name himself, the designer has redefined our Bollywood's love for lehengas. The unique and professional style in Manish Malhotra's lehenga designs presents a blend of visual appeal and sophistication. No wonder why these designs stand out from the local brands.
If you love lehengas, you must have noticed the craze for Manish Malhotra bridal lehenga, as well as other variants. This trend is not here to fade away, and Bollywood is likely to embrace fresh styles from the designer in the coming years.
10 Latest Lehenga Designs by Manish Malhotra:
If you always been dreaming of wearing a designer Lehenga, these pictures from Manish Malhotra's collection can give you some fashion inspiration:
1. Pink Gold Anarkali Lehenga: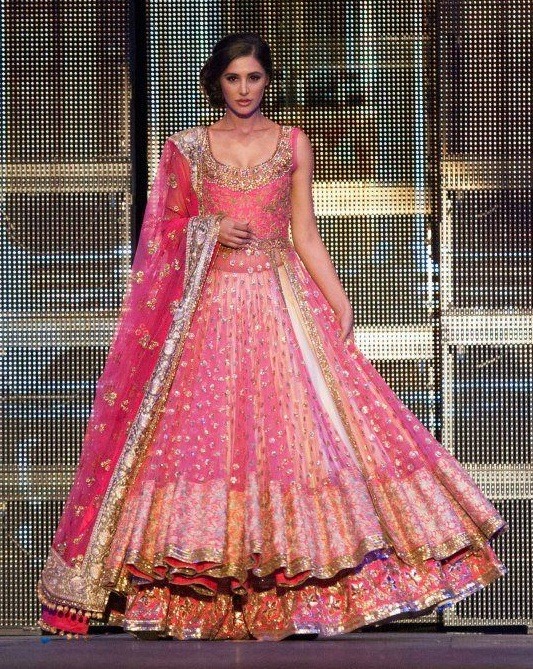 One of the trendiest designs by Manish Malhotra, this grand outfit would suit a bridal look to perfection. Conspicuously pink, this wedding lehenga also displays golden and orange shades. Since this is an Anarkali lehenga, the top has got flares, and it is not too short. The sheer fabric material in the Anarkali top looks great when you pair it with gold and pink borders. If you remember, Nargis Fakhri was wearing this particular design during her ramp walk, celebrating a hundred years of the fashion show in Bollywood.
2. Indo-Western Sequin Lehenga: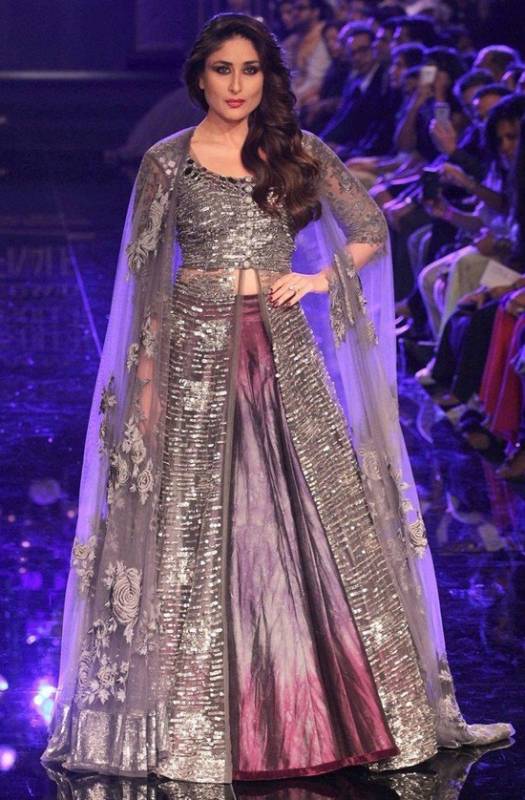 Fashion freaks looking for Manish Malhotra ka lehenga with a glossy finish should check out this particular style. The deep gothic colors in this Lehenga, predominantly the shades of purple, wine, brown, grey, and burgundy, gives it a classy look. If you can recall, Kareena Kapoor had performed wearing this collection. If you love tinsels and shine, you must definitely check this Lehenga out.
In fact, this is silk lehenga with modest tie and dye. The Anarkali top looks blingy, and the embroidery in the dupatta has got a wide, sequined border.
3. Emerald Lehenga for Muslim Brides: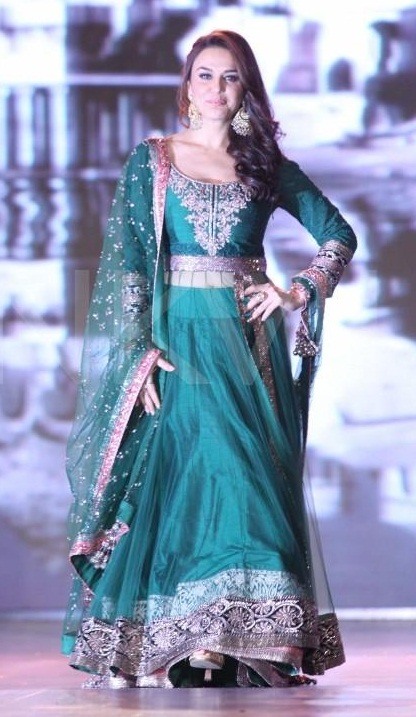 Well, in case you are seeking an Islamic essence in your lehenga design, check out these engagement lehengas designed by Manish Malhotra. For this collection, you might recollect PreityZinta being the showstopper. Of course, this shade looks deeper than other green lehengas. The pink border in this emerald lehenga enhances its appeal.
The Anarkali top in this attire has got a net fabric. Although it is less diverting, this net fabric brings in the essence of a layer. This combination looks interesting, as well as unique. The blouse, too, has got quarter sleeves. Besides, the pink borders completely embellish the dupatta. People looking for party wear Lehenga may embrace this style for a change.
Also Read: Pattu Saree Blouse Designs
4. Mustard-Coloured Lehenga: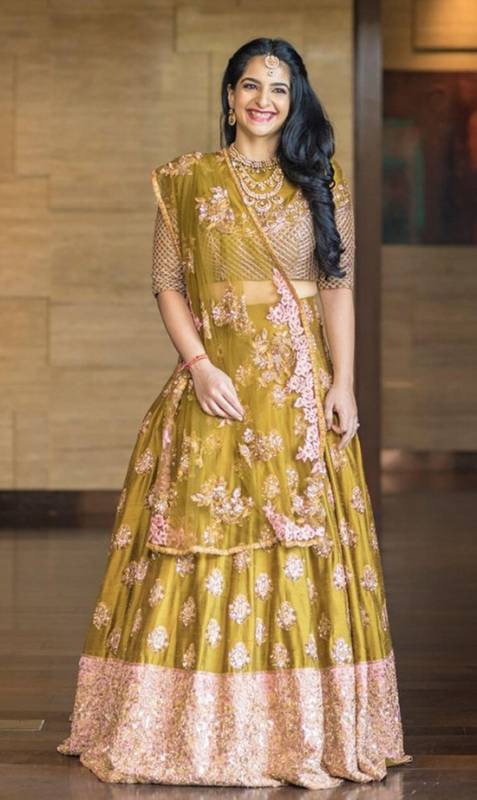 This designer lehenga choli comes in the spring color: mustard. One of the most underrated colours, mustard, carries a delicate aesthetic essence, along with elegance. In this particular lehenga design, you will love the sequin work. For traditional brides, this apparel would be a good pick, given that the sequin work in gold thread looks eye-catching. The bridal look would be extremely jaw-dropping, as the color is a bit uncommon. Again, you might repurpose this dress with Kundan jewelry and a shirt.
5. Unconventional Slate Shade Lehenga: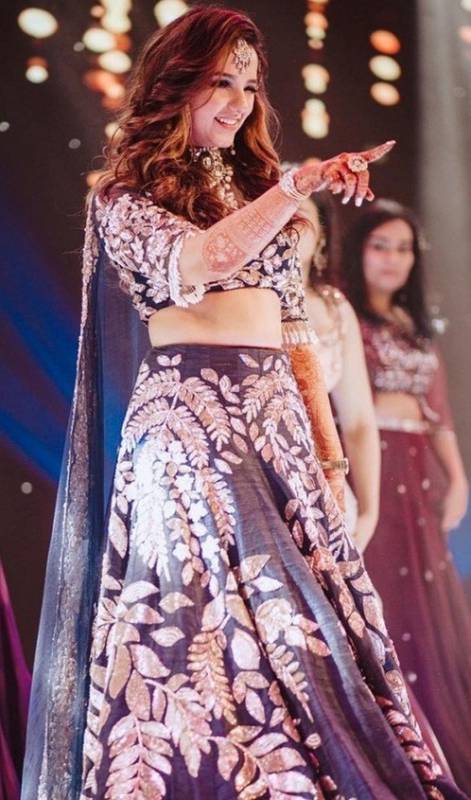 The glam element in this attire carries the trademark of Manish Malhotra's design. The Lehenga has got an organic essence and would be the right pick for brides willing to exhibit a chic and contemporary colour. In fact, this is different from the traditional lehengas in red, that people wear on the big day. The attire has got a unique silver thread work all over it, which gives it a stunning look.
This apparel would also serve as a perfect pick during a cocktail, sangeet, or reception party. The grey-slate color is quite uncommon, and the bold embellishments of the leaf make it pleasing indeed. You might be interested in exploring the best ghagra choli designs. The designing maestro has come up with several innovative specimens for brides.
6. Lehenga with Floral Beauty: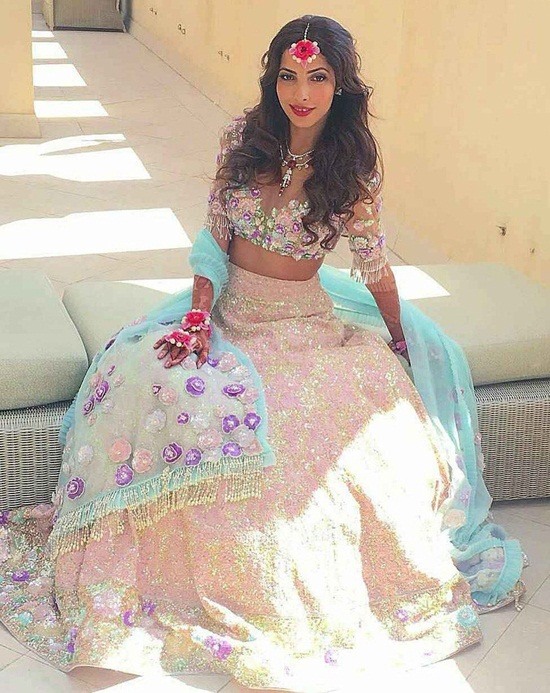 This pastel lehenga looks amazingly gorgeous when paired up with a cut-work blouse. It carries a lot of delicate floral embroideries. Well, this would be a good choice for ceremonies like Mehendi or Haldi. You may go for this particular outfit, clipping it up with accessories of your choice. For day functions, this attire would work out the best. It is recommended to wear floral jewelry along with this dress. The Lehenga is one of the top specimens of lehenga collection from Manish Malhotra, as it carries both pastel essence and white elements.
The aesthetic appeal that this Lehenga carries defines the stellar of a designer that Manish Malhotra is.
Also Read: Alia Bhatt Hot Saree
7. Traditional Red Lehenga: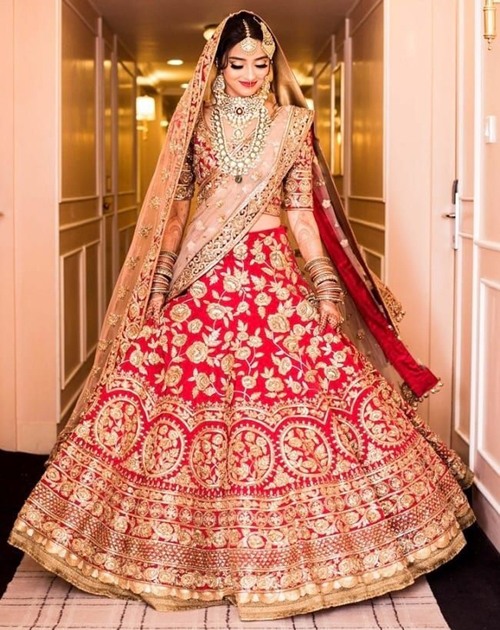 Many people love seeing the bride in the red avatar, and this would be the best choice, if you make up your mind to appear in all red. The bold and big embroidery in this red and maroon LehengaLehenga makes it eye-catchy. This is one of the reasons we all love the appealing designs that Manish Malhotra comes up with. For a traditional look, you may pair up this red LehengaLehenga with a Matha Patti, or headgear.
Besides, one may use only one dupatta, draping it over the head, instead of two. From celebrities to reel brides, you might come across everyone dressed in this red LehengaLehenga. The variations that Manish Malhotra incorporates in his designs make him a versatile makeup artist and designer.
8. Princess Look in net Fabric: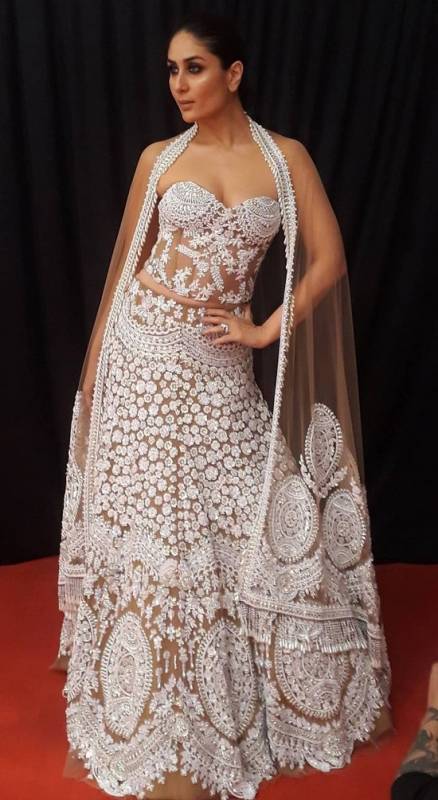 A specimen of sheer elegance, this white Lehenga with net fabric delivers an aristocratic look. People who love experimenting with styles should definitely give it a try. Some fashion enthusiasts might be skeptical of the looks that one would exhibit wearing this attire. It might appear to be a piece of white embroidery on an otherwise nude attire, but this is exactly what makes this attire different from the traditional outfits.
In case you are looking for a bold designer ghagra choli from Manish Malhotra's new collection, you might be interested in this design. Even if you plan not to wear it for the main wedding, you can always put it over at the reception party. It is advisable to pair this Lehenga up with minimal diamond jewelry. To make your look perfect, carry a small clutch bag. Simply drape your dupatta around, and it would resemble a pair of wings around the shoulder.
9. Elegant Blue Lehenga: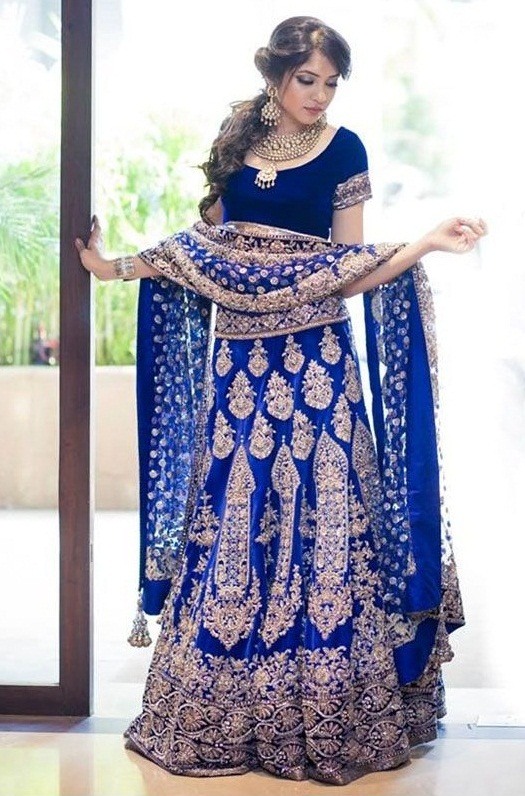 Thinking of a romantic colour? Blue has never failed to impress, and this time too, Manish Malhotra has come up with an elegant blue specimen with his new lehenga designs. The detailed and intricate thread work remains spread all over the dupatta as well as the Lehenga. A perfect look for wedding parties, you would definitely love this bridal Lehenga. The simplicity in design, along with the royal essence that this Lehenga displays, makes it a top pick among fashion lovers.
You might have noticed the minimal thread work on the blouse, while the skirt is loaded with heavy embroidery. This innovative combination looks elegant when you pair it up with the right accessories and a matching dupatta.
Also Read: List Of Different Types Of Fashion Styles
10. Gorgeous Gold Lehenga: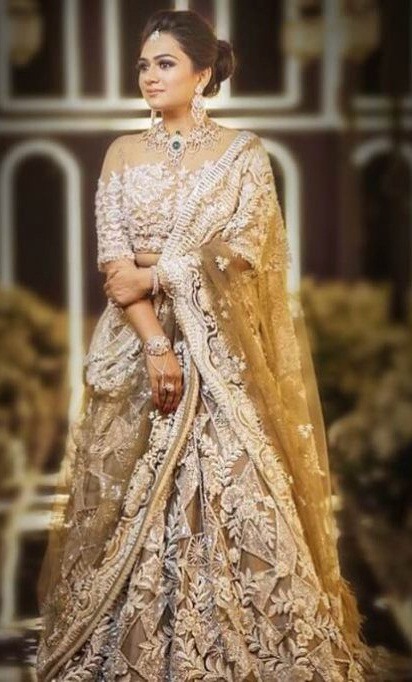 If you have a fascination for aristocratic hues, you cannot possibly overlook a gold lehenga. Bright fabrics and large floral designs define the grace one would carry, wearing this attire. The designer has perfectly combined light colours and fabrics, along with an elaborate lacework. A beautiful lace blouse further enhances the look, and it resembles uniqueness and modernism in the same frame.
What makes this Lehenga outstanding is the classy embroidery on it. The blouse has got an amazing finish. Remember, the colour gold never turns old, and this is why even modern brides prefer this hue. This is one of the popular lehenga designs, that can be spotted on fashion lovers. Make sure to buy matching bridal jewellery to pair up the attire with. The dupatta in net fabric looks fabulous.
Be it a party lehenga or wedding, Manish Malhotra's collection offers you every variant that might suit your looks. Explore the latest collection of bridal lehengas, along with the best accessories to wear a spectacular look on the special day. You might also be interested in kids lehenga designs by Manish Malhotra that carries the red vintage colour, or the new minimalistic trends. Enrich your wardrobe with the best lehenga collection and feel the grandeur with all your heart.