It's a welcome change to spot the younger generation of women embracing the silk saree trend for weddings and special occasions! However, their blouse choices have not veered too much away from their mainstream sartorial choices. If you belong to this group who says "nay" to the old-school pattu blouses and "yay" to dramatic and edgy cholis, then these 10 latest blouse designs for silk sarees are sure to inspire you!
Read along to take a look at these never-before-seen blouse patterns for Pattu Sarees and yes, you can thank us later!
10 Latest Blouse Designs for Silk Sarees, 2021:
1. Peplum Style Blouse: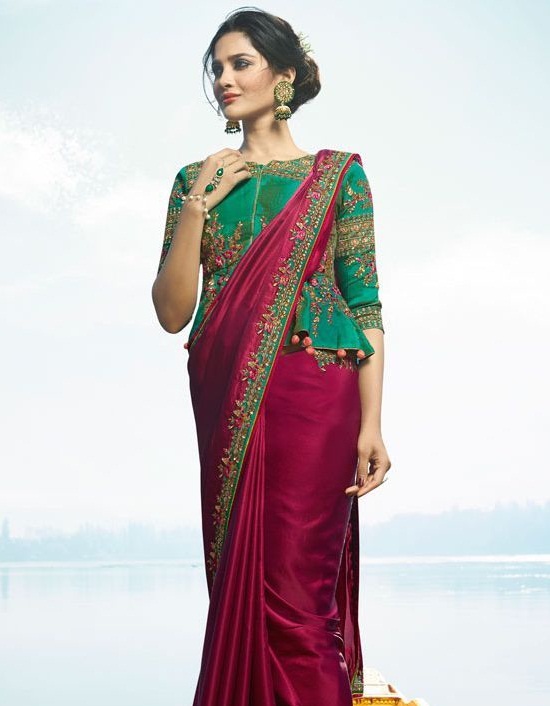 A simple, lightweight Silk saree like this Magenta and Green drape can be dramatically elevated with an embroidered Peplum blouse. The green raw silk blouse features a contemporary peplum style waistline, which can be identified by its short, gathered flared piece of fabric. This Pattu saree blouse design not only adds drama to your outfit, but also flatters your already gorgeous curves. Make sure that you pleat the pallu super thin to let the blouse do the entire talking for you!
2. Baroque High Neck Blouse: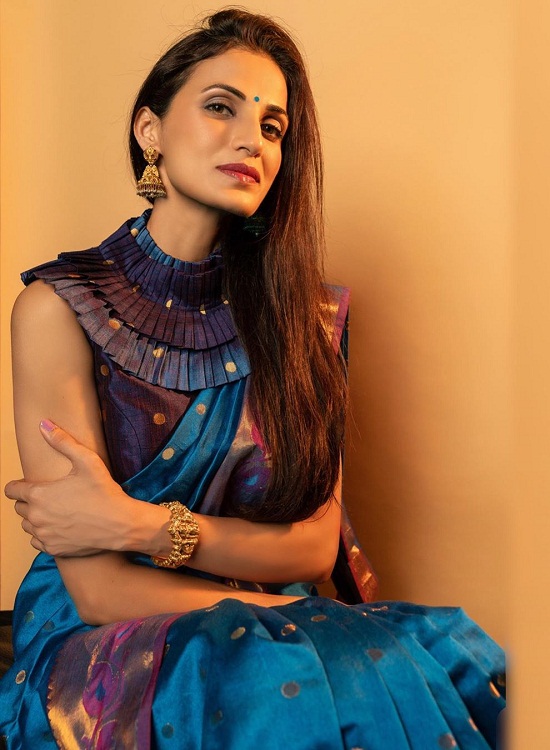 Here is another unique blouse design you can try with your silk saree! The baroque-inspired blouse features a high neck model, accentuated with layers of frills. The blouse serves two purposes – conceal your long neckline and adds some length on the upper body. If you are not a big fan of sleeveless blouses, try adding cap sleeves. When you are wearing the pallu, make sure the fabric is secured below the frills to flaunt this beauty of a blouse!
Also Read: Fashion Designers All Over India
3. Boat Neck Embroidered Bridal Blouse: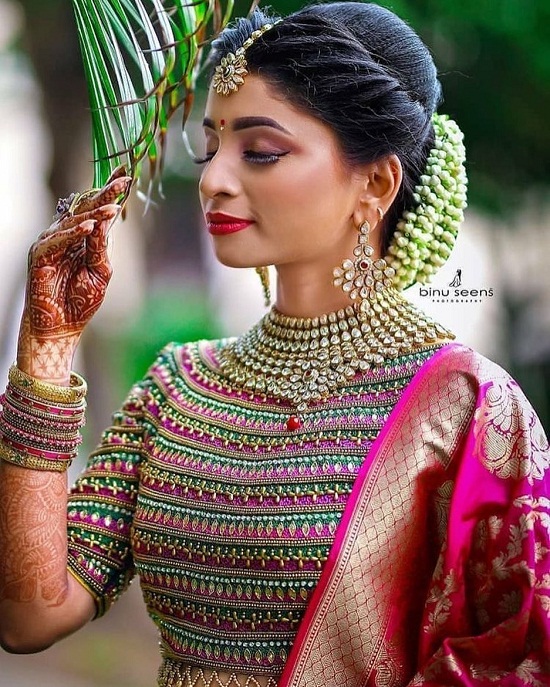 Amp up the grandeur of your Banarasi silk saree with this latest blouse design. The boat neck blouse features pink and green, adorned with heavy beaded embroidery to give you a queen-like appearance. Even the waistline is accentuated with delicate gold beaded tassels, which give the illusion of an attached Kamarpatti or a saree belt. After the wedding festivities are over, you can reuse the blouse with a lehenga and a dupatta and wear it for other occasions!
4. Trendy One-Shoulder Pattu Saree Blouse: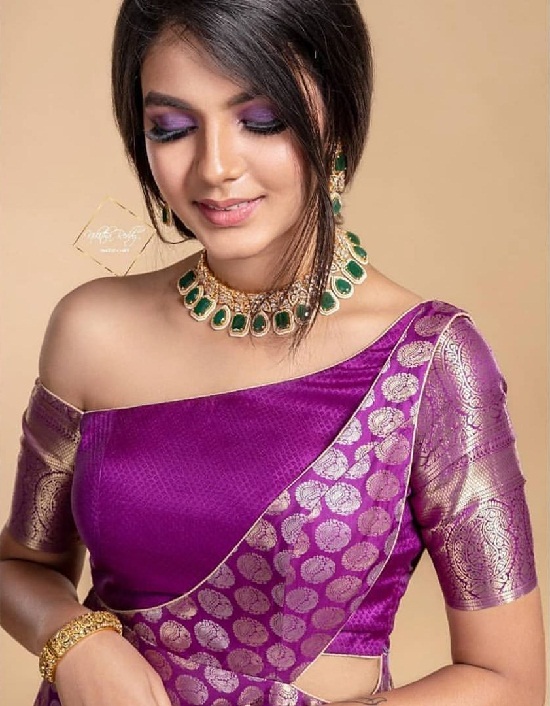 This show-stopper designer blouse for pattu sarees is specially made for the bold and the beautiful. The one-of-a-kind design features a regular silk blouse but with many twists in the plot! On one side the shoulder is dropped to give an off-shoulder effect and a layer of woven Banarasi fabric is added to give the illusion of a drape. The length of the blouse is slightly longer than the usual choli and can be worn as a crop top over western skirts and lehengas also.
Also Read: Manish Malhotra Lehenga Collection
5. 3D Blouse for Pattu Sarees: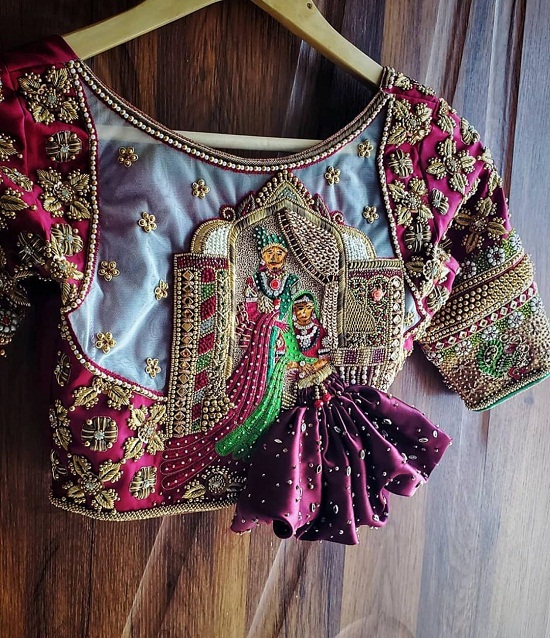 Now, this one is sure to blow your mind off! The intricately embroidered bridal pattu saree blouse features a show-stealer of a design on the back. It resembles a Raja-Rani enjoying each other's company in their Durbar! To give a 3D feel a tiny skirt is attached to the body the lady, as if her lehenga is flowing out of the blouse. The impressive part is the number of embroidery techniques employed in making this piece that is sure to give a jaw-dropping moment to people around!
6. Illusion Blouse for Pattu Saree: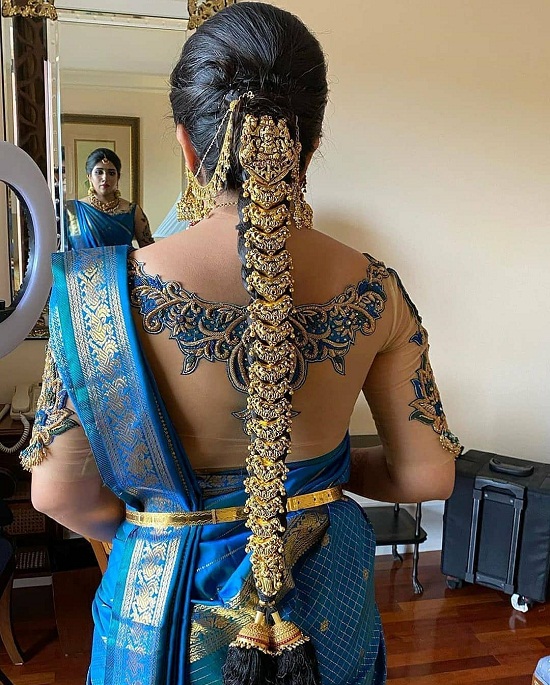 This unique back neck design for silk sarees gives us the illusion of a floating floral patch on the back of the woman! The secret lies in the fabric used for making the base of the blouse. A sheer netted fabric with skin color attached linin,g seamlessly blends with the rest of the body. Adding embroidered patches on the neck, shoulders and arms gives a magical look to the outfit. The front side is designed with raw silk fabric for comfort and better support. Do opt for fitting pads to ditch the inner and stop it from ruining your look.
7. Pattu Blouse with Attached Zari Belt: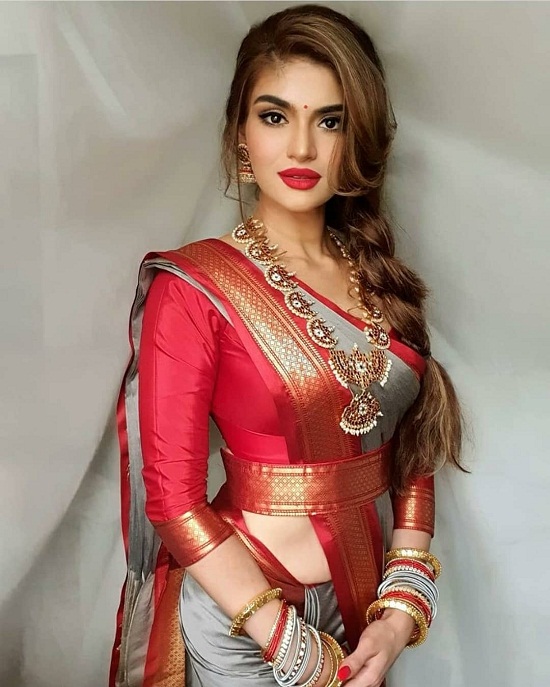 The new-age women are saying no to wear heavy, old-school Vaddanams or gold belts. Instead, they are coming up with creative ways to highlight the waistline and enhance the curves. Here is one such idea in which the regular three-fourth sleeves pattu saree blouse comes with an attached Zari belt. You can use a piece from the saree itself or go for a totally new fabric or design that works with multiple drapes. The pallu comes from inside the belt to achieve a tight, fitting look.
8. Shirt Style Blouse with Bell Sleeves: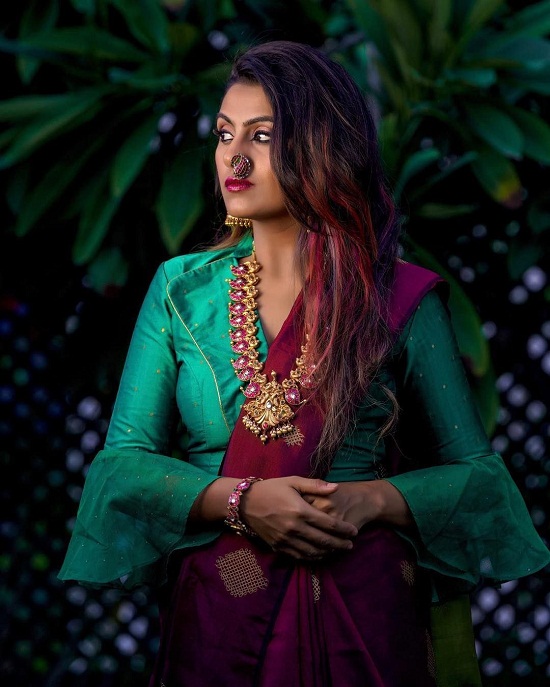 Here is another trending blouse style with lightweight silk sarees. The idea is to highlight the upper body and arms, by adding a heavy dose of drama in the form of collar neck and flared up bell sleeves. The slightly wide collar lends a fusion look by harmoniously blending the shirt collar with a traditional Pattu saree. Instead of using the same fabric for the bell sleeves, use a flowy fabric for a breezy look. You can drape the pallu as thin as you can to let your blouse speak volumes about your style!
Also Read: Alia Bhatt Designer Saree
9. Jacket Style Blouse for Pattu Saree: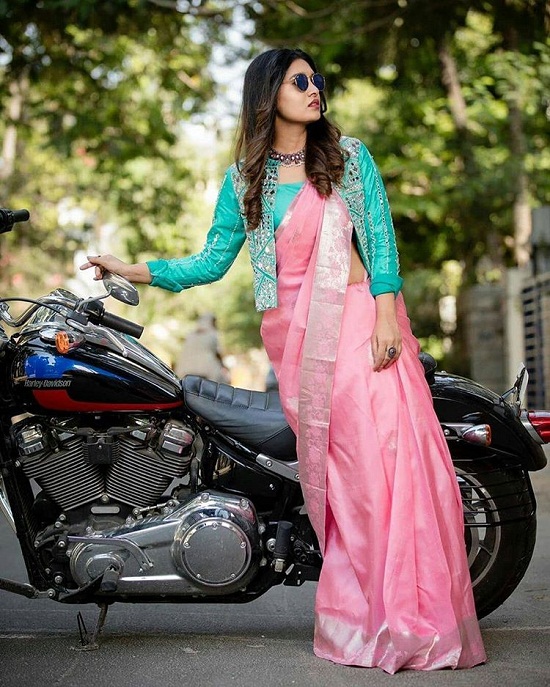 Rock the fusion look with this stylish mirror work, jacket style blouse for your Pattu saree. This starry outfit can transform you into a celebrity with just one picture of you wearing it. The two-layer blouse features a silk tube top on the inside and an open style jacket on the outside. For a festive look, the jacket is adorned with Silver Zardosi work and real mirrors that shine like stars in the daylight. To make the best out of this outfit, wear the jacket over the Pallu and accessorize it with a trendy choker!
10. Puff Sleeves Blouse For Silk Saree: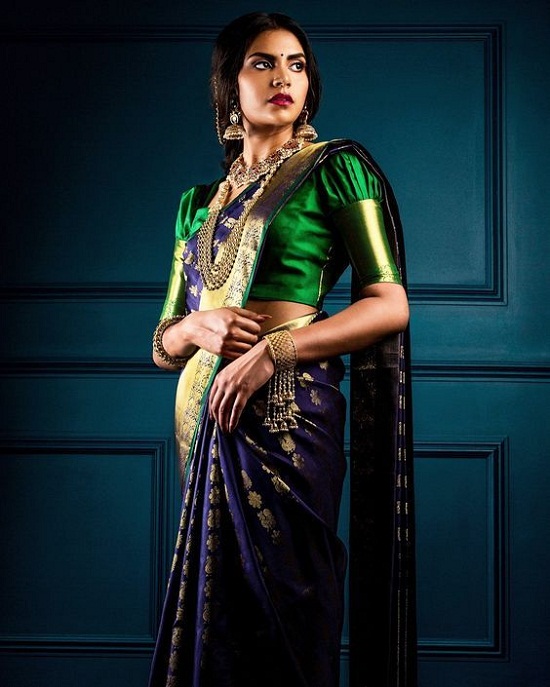 When it comes to choosing the best blouse for your silk saree, it's safe to say that Puff Sleeves blouse will never make you fail! This traditional design is now back into the fashion scene and making it big like never before. Depending on your taste, you can pick from a variety of puff sleeves which range from voluminous pleats on the shoulder to a tight, shoulder hugging style. Adding the Zari before the puff can give a regal touch to your Siz yards elegance!
We hope you loved this collection of latest blouses designs for Silk sarees. You can use these ideas as an inspiration and add a touch of your creativity to flaunt an exclusive look. If you have any more such patterns that you think should make into this list, then do share your ideas with us!
DISCLAIMER: We do not own or sell any of the blouses or sarees provided in this article. The information provided is purely for representational purposes and the owner/original creator of these designs have the complete right over their creative properties.