Hyderabad: Telangana has quarantined 17 of its police personnel as they were found having symptoms of Covid-19, while three of them tested positive.
Meanwhile, neighbouring Andhra Pradesh has 21 cops who tested positive and one died due to Covid-19, revealed data collected by the Indian Police Foundation (IPF), an independent think tank on policing and law enforcement.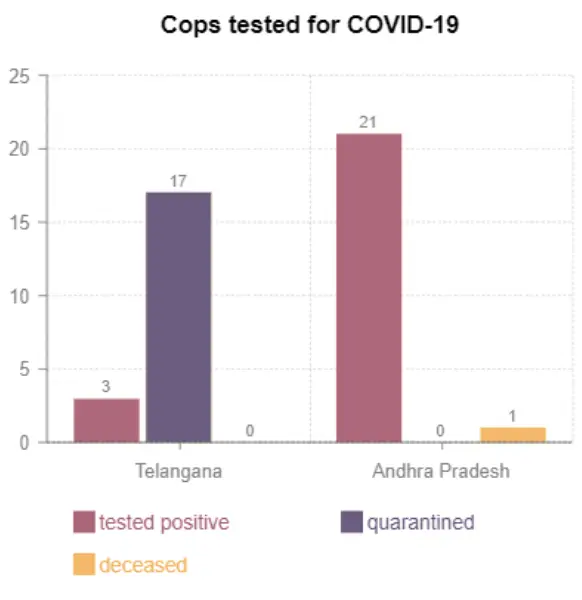 According to the data, in India, around 1,964 cops, including officers from the Central Reserve Police Force, Border Security Force and Indo-Tibetan Border Police, were infected with Covid-19. Over 18 cops succumbed to the disease and 2,292 cops, who came in contact with Covid-19 patients, were kept under quarantine.
The IPF states that, "This dashboard has been designed as a repository of all available resources drawn from states, CAPFs, research institutions and international organisations. It seeks to compile relevant laws, rules, and government notifications. Besides compiling all data on infection within the forces, we also endeavour to bring together useful experiences, data and information for the use of police officials across India. We believe that this repository of resources will be useful for future reference and research."
Moreover, the IPF also gives an opportunity to the cops to share their experience of working amid Covid-19 lockdown.
Leading states
Maharashtra, which has the maximum number of Covid-19 cases in the country, beyond 23,000 as of May 12, also tops the list with a large number of cops being infected by Covid-19. According to the data, 887 cops were infected, 337 were quarantined and 7 died.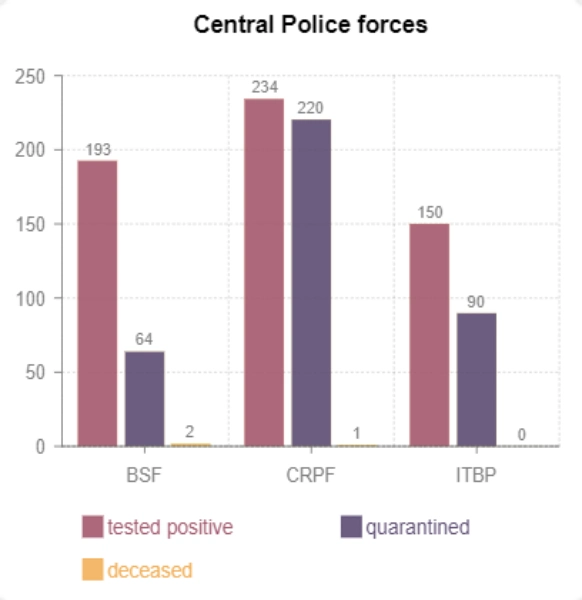 The Union Territory of Delhi has recorded 127 Covid-19 positive cops and over 522 cops were quarantined till May 11.
What are state police doing to protect their officers?
Rachakonda Comissionerate in Hyderabad conducted medical tests for its cops during which one of them tested positive for Covid-19. Hyderabad traffic police is checking temperature of all the officers who enter Hyderabad Traffic Complex.
Rachakonda Commissioner of Police Mahesh Bhagwat speaking to NewsMeter said, "We know that precaution is better than cure. Vitamin C and Zinc tablets were given from immunity building, Ayush ministry prescribed Chavanprash and Homeopathy medicine that were also given to the cops. Apart from that, personal mask and sanitizers were also distributed. We have asked our staff to wash clothes regularly and after going home we keep our clothes separately, take bath and then only talk to our family. We also had Health check-ups done in all police stations we are giving medicines if any police officer has cold or cough."
Apart from that PPE was also provided to police officers working in vulnerable locations like crematorium. Moreover officers above 54 years and pregnant lady officers are not being assigned front line duties instead they work from the police station said Bhagwat.
The Maharashtra government tested 714 police officials as of May 9.
Meanwhile, different state police are educating the people on the precautionary measures that should be taken as protection against Covid-19.