Hyderabad: The nationwide lockdown has thrown life out of gear for many residents living in the city's slum areas. Those who depend mostly on the informal sector for livelihood have been badly hit. With no savings and large families to support, the sudden loss of jobs has made life difficult for many. If not for the timely help from the government and voluntary organisations, many families in these areas would have starved.
A survey conducted by the Helping Hand Foundation (HHF) across more than 50 slums in the Old City found that nearly 80 per cent of the weaker sections in the minority community are daily wage earners and of them, a large number, 56 per cent, are those who work in kirana shops, hotels, welding and mechanic shops while some eke out a living as electricians, plumbers, cooks, and pushcart vendors. The auto drivers constitute 24 per cent of the daily wage earners.
Only less than eight per cent of people have a salaried job working as salesmen in retail shops or as drivers and security guards. Nearly 12 per cent of women contribute towards the family income working as housemaids and doing zari work.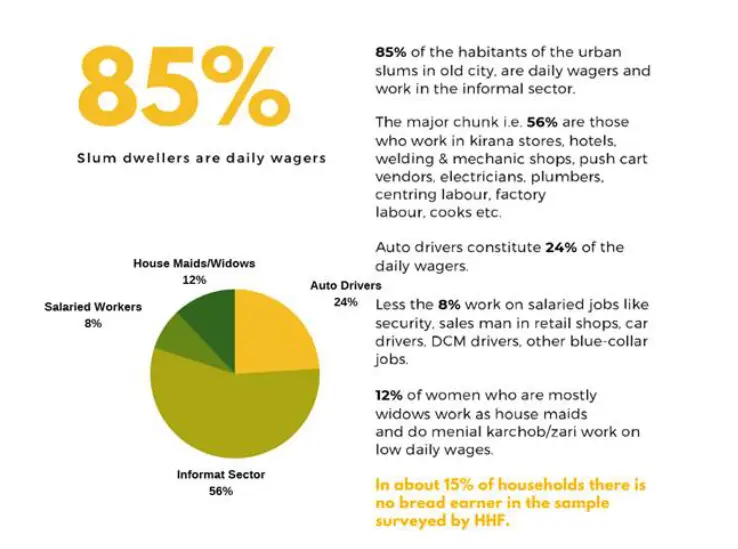 Given their socio-economic profile, every day is a struggle for most families. Meeting expenses like food, rent, medicine, and education is a big challenge. The prolonged lockdown has made matters worse. Luckily, the Telangana government is supplying rice to the white cardholders in the Muslim community. About 83 per cent of the weaker sections here have white ration cards that make them eligible for subsidised ration through PDS. But they have no money to meet the expenses towards milk, groceries, and other essentials.
Many feel a special package is needed to help the slum dwellers during the crisis. Otherwise, there is a danger of a significant number of daily wage earners slipping into poverty under the present circumstances, it is feared.
The survey showed that 73 per cent of the poor live in rented houses. Auto drivers are a worried lot as nearly 43 per cent of them have finance linked to their autos. They repay the loan through their daily earnings and now their dues are piling up. A health survey of the auto drivers showed that 35 per cent of them have one or more forms of non-communicable diseases like hypertension, diabetes, and other ailments like heart and kidney disease.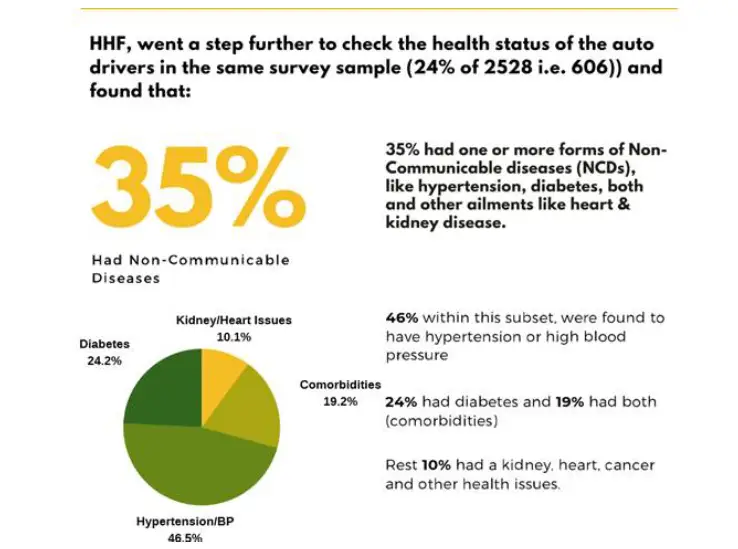 If there is a silver lining, if one might say so, is the drastic fall in the pocket expenses of a good number of daily wage earners who are habituated to spending money on cigarettes, gutka, tea, and other such things.
For philanthropists, socially-concerned groups, and individuals, the survey data comes handy to take up relief work. "A stimulus of at least Rs. 200 crore is required from the well-off Muslim families in the form of zakat to meet the food and essential supplies of the weaker sections", said Mujtaba Hasan Askari of HHF.
The survey was conducted by 50 volunteers and local community leaders as part of the ration pack distribution programme in the pre-lockdown period from 1 to 22 March and later over the phone from 23 March to 10 April. Nearly 2,528 households were covered.
Some of the areas surveyed were Bismillah colony, Farooq Nagar, Bilal Nagar, Bada Bazar, Bibi ka Chashma, Chandrayangutta, Tekri Biryani Shah, Babanagar (C block), Balapur, Chashma Madannapet, Fatima Nagar, Ghouse Nagar, Milat Nagar, Imam Bada, Kala Dera, N.S. Kunta, A.R. Reddynagar, Jamali Darwaza, Shaheenagar, Sultan Shahi, Shakergunj, Himatpura, Chintalmet, M.M. Pahadi, and Aman Nagar