Hyderabad: On Labour Day on Friday, around 1,225 migrant workers of Jharkhand stuck in Telangana boarded trains to their native place, amid Covid-19 lockdown. As the Central Ministry of Home Affairs asked the states to allow stranded migrant labourers and students to return back to their houses, the Telangana government has initiated this special train service.
The first batch of migrant labourers boarded the special train from Lingampally station and will be dropped at Hatia in Jharkhand. The train left Ligampalli at 4.50 am.
The migrant labourers from different parts of Telangana were brought to the station in 56 buses. The railway officials stated that before bringing the migrants they barricaded the station and deployed adequate Railway Police Force (RPF) and local police to guard the station to prevent entry of unauthorised persons.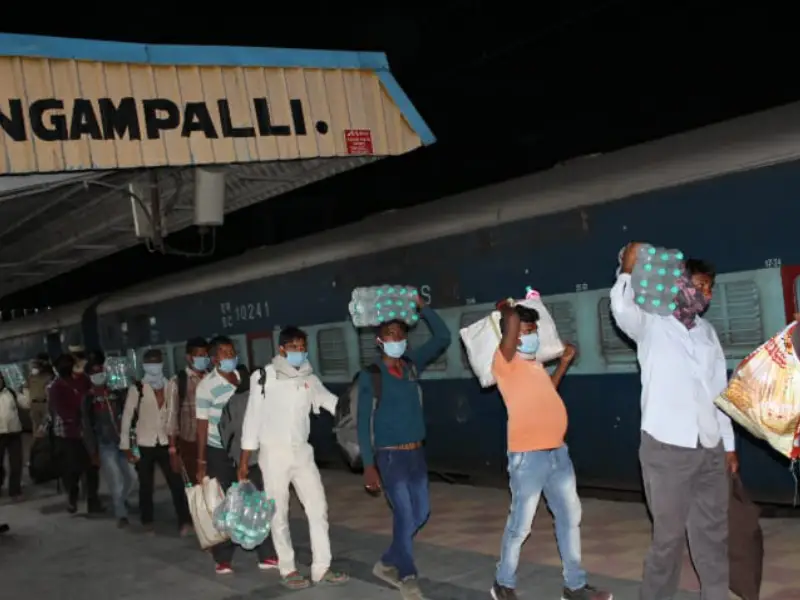 Two days before, these workers staged a protest demanding facilities, it took a violent turn. Two police personnel were reportedly injured, while a police vehicle was also damaged. Further some property at the campus was also damaged in the incident.
These workers were employed by private contractors undertaking construction works at the IIT - Hyderabad campus, much before the lockdown came into force. However, after the contractor allegedly failed to take care of their needs, the migrants decided to stop the work and move back to their place. On Wednesday morning, they staged a protest at the work site in the campus, demanding that they be sent back home.
Two days later and following the MHA's orders a special train was arranged on May 1st. The RPF ensured that the migrant labourers boarded the train in queue. In order to maintain social distancing inside the coaches, a specific seating arrangement was made and the RPF guided the migrant labourers about it.
The South Central Railways commercial staff also issued tickets, food and water was provided by the state government officials to the migrant labourers.
Escorts from RPF and Governmnet Railway Police also accompanied the migrant labourers in their journey to hometown.
The railway officials stated that the migrants seemed very happy to leave to their native places. Once the labourers reach Hatia, the Jharkhand state government will take care of their transport.
Earlier, the South Central Railway (SCR) was applauded as Kacheguda station was top in transportation of essential goods amid lockdown.
As of May 1, according to the Ministry of Health and Family Welfare, the total number of coronavirus positive cases in India is 35,043, while in Telangana it touched 1,038.