Hyderabad: When the farmers in the entire country were on the streets on September 25, protesting against the new farm bills, as part of Bharat Bandh called on Friday, reports on the internet gave priority to Bollywood actress Deepika Padukone's interrogation.
Media Cloud, an open-source platform which studies media ecosystem by tracking millions of stories published on more than 130 news sources, had shown in its data that around 290 stories on Deepika Padukone were published on the web while only 163 stories were posted
online about farmers on that particular day.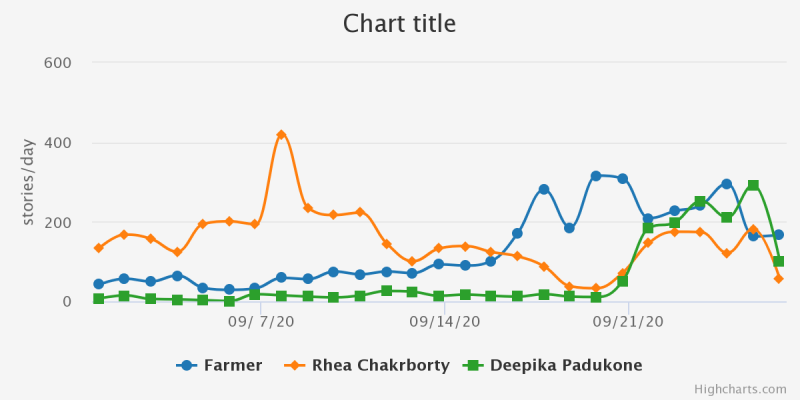 It was on September 19, that the highest number of 316 stories covered the farmers' argument over the controversial farm bills.
Though farmers' protests have been rocking the country this entire month, news articles on farmers were less compared to those on actress Rhea Chakraborty on the internet till September 27. Chakraborty is being interrogated by the Narcotics Control Bureau for her links with drug peddlers.
In September, while 0.86 per cent of the stories that appeared on the web related to Rhea only a meagre 0.75 per cent of them highlighted the farmers. Actress Deepika Padukone came into the drug probe late but even then 0.32 per cent of the stories on the internet covered her.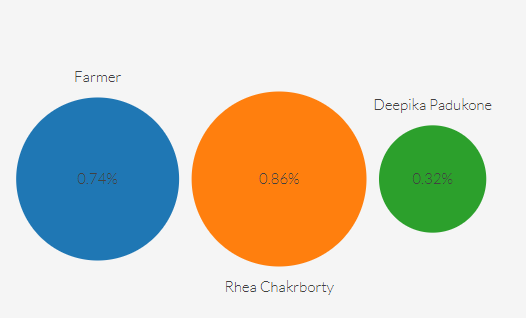 Till September 28, around 4,117 stories were posted online on Rhea Chakraborty and 1, 551 stories on Deepika Padukone while only 3,585 stories were related to the farmers.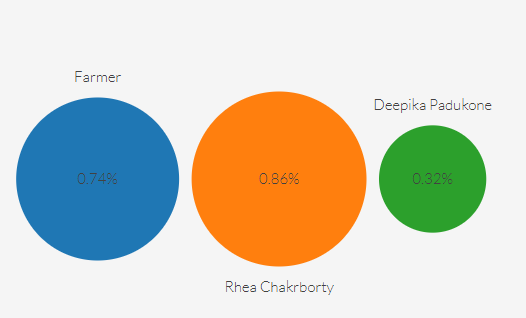 From September 17, when the farmers launched their protest against the controversial farm bills, an average of 200 stories per day appeared on the web till September 24. However, after Padukone being named in the drug probe, stories about the actress started to flourish on the web drowning the farmers' issues.
From the beginning of this month to September 17, 100 stories per day, on an average, related to Rhea Chakraborty.
Irrespective of the stories on the internet about them, farmers across the country have been registering their resentment over the farm bills through protests.
Farmers in Karnataka called for a bandh on September 28 while on Monday morning, protestors in Delhi burnt a tractor in front of the high-security zone, India gate.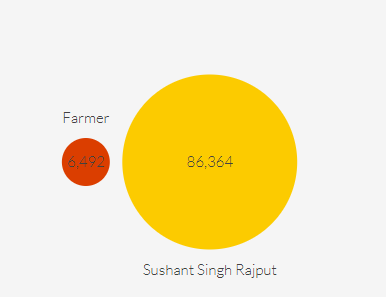 Since the death of the Sushant Singh Rajput on June 14, around 86,364 news stories about him have appeared on the web while only 6,492 stories on farmers appeared on the web in India.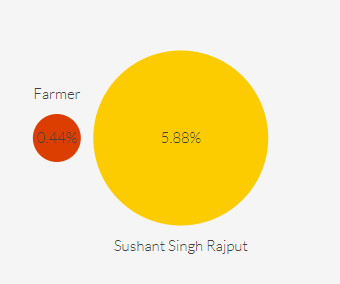 Sushant Singh Rajput story on the web is around 5.88 per cent of total stories which appeared on the web while only 0.44 per cent stories are related to farmers on the web since June 14.