Fact Check: Online rumors that actress Alia Bhatt has been shunted out of Rajamouli's `RRR' are False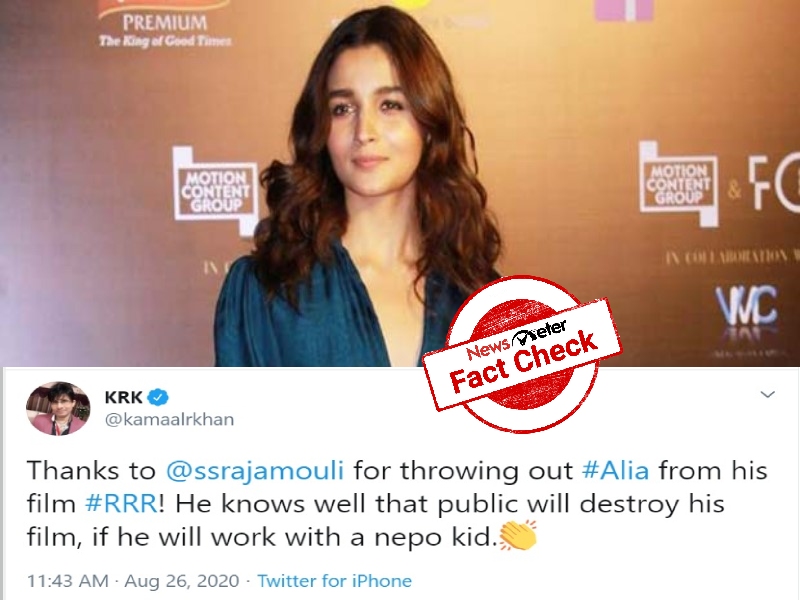 Hyderabad: Actress Alia Bhatt is facing severe backlash from netizens ever since Sushant Singh Rajput's tragic death. Her Sadak 2 trailer is the second most disliked video on YouTube. The first spot belongs to YouTube Rewind uploaded in 2018.
Social media is abuzz with rumors that she has been removed from RRR movie by Rajamouli due to backlash from the netizens.
On Wednesday KRK tweeted: "Thanks to @ssrajamouli for throwing out #Alia from his film #RRR! He knows well that the public will destroy his film if he will work with a nepo kid".
The tweet notched 7,700 likes and 1,400 retweets.
Archived link can be found here.
Fact Check:
Alia is still part of the film. The claim is FALSE.
On Tuesday, Bollywood Now posted a video with a caption: "If Rumors are to be believed, Alia Bhatt has opted out or may have been thrown out of SS Rajamouli's mega-project 'RRR'. Ram Charan wants Priyanka Chopra to come in. Watch the story".
The post got 10,000 reactions including 700 comments.
Alia Bhatt's team was quick to respond and dismiss the rumors as 'false'.
BollywoodLife wrote an article about the rumor. It quoted that a source told Pinkvilla that "Alia is still very much a part of RRR. She is, in fact, prepping for the role, since she has to learn and understand Telugu. While the COVID outbreak has put a temporary pause on the film's shoot, the team is currently chalking out a different schedule to start rolling with Alia."
As per DNA India sources, such reports are surfacing on the web to tarnish her image.
"It's a carefully planted report to damage her reputation even further. Rajamouli has signed Alia because of her talent and not of her lineage. He will stick to his decision and go ahead with Alia as his lead heroine. It's sad to see what's happening out here."
Hence, the claim is FALSE.
Claim Review :
Actress Alia Bhatt has been shunted out of Rajamouli's `RRR'
Claimed By :
social media users