Hyderabad: Faced with an alarming rise in the number of Corona virus cases in the state, Telangana has decided to start plasma therapy for critical COVID-19 patients.
The director of medical education for Telangana has constituted a seven-member committee that will coordinate with the Indian Council of Medical Research (ICMR). All COVID-19 patients who have recovered and tested negative are potential blood donors for plasma therapy. The method has reportedly shown promising results in China - the epicentre of the novel Corona virus - as well as South Korea. Also, three critically ill Indian-American COVID-19 patients are also showing signs of recovery after the therapy.
On April 15th, the state reported 6 new cases while no deaths recorded. The total number of patients cured/discharged are 118. According to the medical bulletin, state recorded 650 COVID cases of which 514 are active cases. Greater Hyderabad with 267 cases continues to be on top of the hotspots list.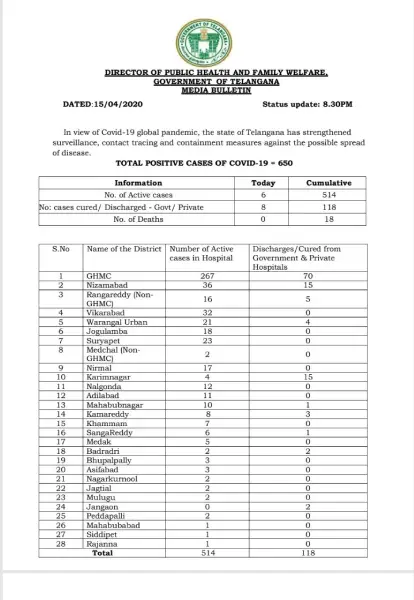 What is plasma therapy?
The process is similar to donating blood. If somebody has recovered from Corona virus they will have developed antibodies against the virus. After two weeks of recovery, we conduct one test to confirm if the person is still negative. In this procedure, blood is drawn from the person and the serum is separated and screened for virus-neutralising antibodies. The serum, which is rich in antibodies, is then administered to a COVID-19 patient.
How effective is it?
Professor Rakesh Mishra, the director of Hyderabad's Centre for Cellular and Molecular Biology (CCMB), told NewsMeter, "Plasma transfer cannot be administered on a large scale. "About 200ml of blood has to be taken from a recovered person for plasma transfer. This means one recovered patient can transfer plasma to only one patient. Also, some people recover without the help of antibodies. Their blood also cannot be used. Hence, plasma transfer will be administered only to patients in critical conditions', he said.
To study the efficacy of plasma therapy in treating COVID-19 patients, the apex body for medical research in India, ICMR, has invited institutions to participate in a clinical trial of convalescent plasma therapy.
The method has earlier been tested on Ebola and other strains of Corona virus like SARS in 2003 and MERS in 2012 with varying levels of efficacy.