Satellite images reveal Gopanpally residential complexes encroached Komati Kunta Lake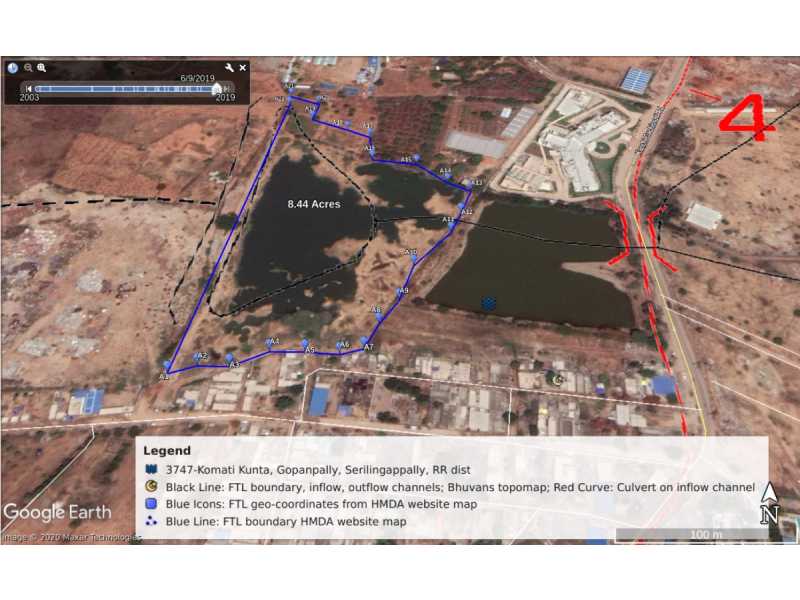 Hyderabad: Satellite images have revealed that residential complexes have encroached Komati Kunta Lake (HMDA ID 3747) at Gopanpally area of Serilingampally on the outskirts of Hyderabad.
A Hyderabad-based environmentalist has filed a writ petition in Telangana High Court praying for the restoration of the water body which is a lifeline for the people.
De Lubna Sarwath, who filed the petition, said the lake's full tank level (FTL), as well as its buffer zone, has been encroached especially on the southern side. The environmentalist said Komati Kunta is a fairly unpolluted lake and its inflow and outflow channels encroached.
In the bellow image, FTL geo-coordinates of the lake are mapped on the Google Earth satellite imagery on June 9, 2019.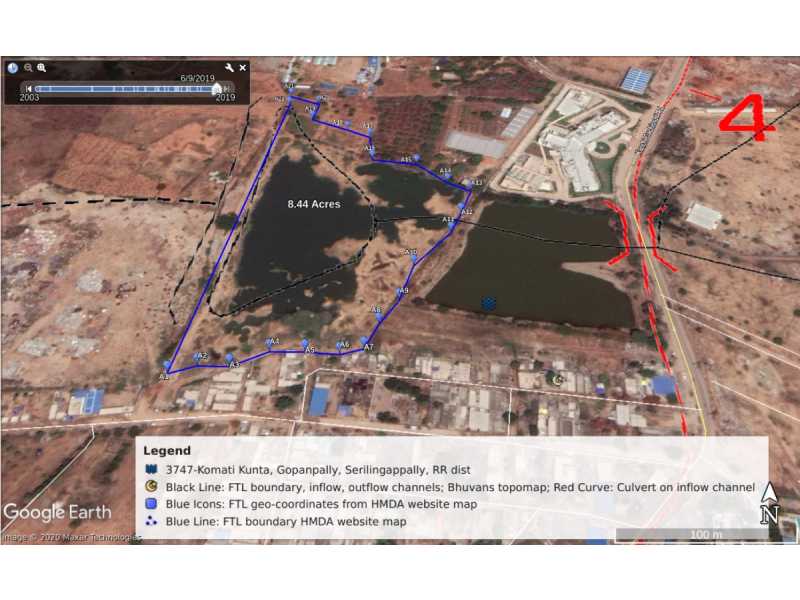 The black lines indicate Komati Kunta hydrology with inflow and outflow channels. Red curves indicate culvert across the inflow channel. While blue icons indicate the officially demarcated FTL geo coordinates from A1 to A22, a blue line joining these FTL geo coordinates indicates officially demarcated FTL boundary of the lake.
Encroachments include those conspicuously observed on the southern part of the FTL boundary and its buffer zone.
"Komati Kunta in 2017 had wide water spread after the incessant rains in October-November 2017. Today there are many encroachments in the FTL boundary and buffer zone. Latest lake measurements seem to have been compromised to accommodate the encroachments," said Dr. Sarwath.
Satellite imagery of November 1, 2017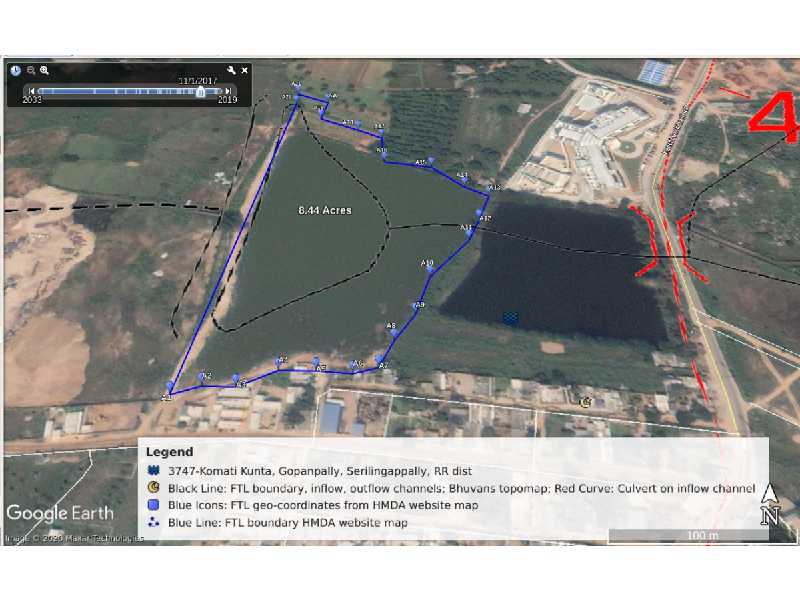 However, below screenshot from Indian Geo-platform of Indian Space Research Organization indicates water spread much beyond the HMDA's officially demarcated buffer zone.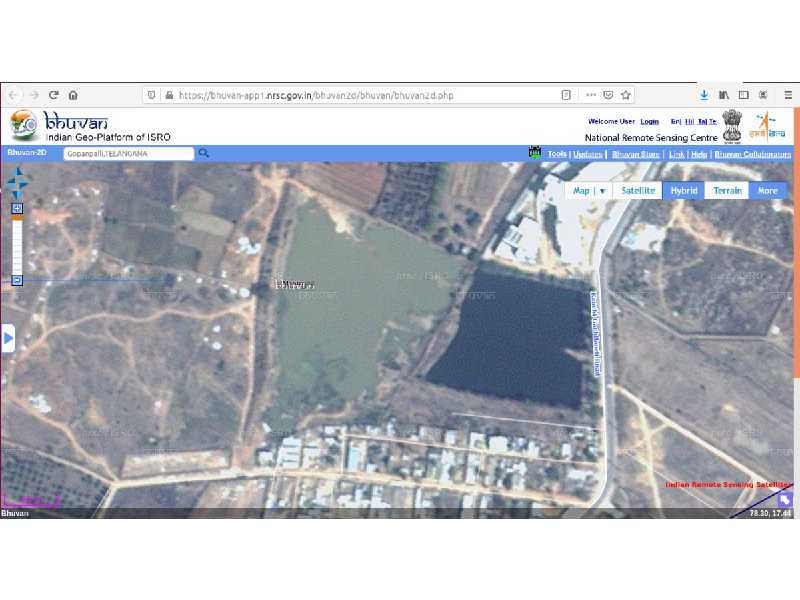 "Officially demarcated FTL boundary has been overlaid on the village map. While these indicate the extent of the lake as per survey numbers, it is overlaying the officially demarcated geo coordinates on satellite imagery. It gives us the sense of the ground realities about devouring the water body through official omissions and commissions," she said.
Dr. Sarwath said encroachments should be removed and the buffer zone should be restored. "Komati Kunta should be as designated potable water resource. For this, we require the participation of the local communities a well. They have to own and preserve it. When the encroachment happened authorities were blind to it. If we demand eviction, the question will come up: Where will those families go? This waterbody is unpolluted. The local population has to start preserving it," she said.
As a fair step forward to conserve the lake, Dr. Sarwath suggested the biological fencing of the lake as a feasible and long term solution. "Firstly, the outflow channels, inflow channels, and culvert identified as per Bhuvan's topo map need to be identified. And then the buffer zone of the water body and the channels need to be biologically fenced with the scientifically notified plantations. This will help to maintain a buffer zone in a gradient manner with full flow of rain waters allowed from catchment into the lake," she said