Hyderabad: Telangana Chief Minister K. Chandrasekhar Rao launched the sixth phase of the Haritha Haram programme on 25 June to increase green cover in the state. The state government plans to plant 230 crore saplings and has already planted 182 crore saplings so far. The state, however, has been using polythene bags for the saplings which seem to defeat its green purpose.
Students of the Zilla Parishad High School (ZPHS) in Chintalakunta in Telangana's Jogulamba district have found an answer to the problem. They have made bio-degradable pots from groundnut shells to plant saplings in nurseries.
It all started on 19 March this year when A. Srija, a Class IX student of ZPHS, was digging a pit in her school premises to plant a sapling. She found a polythene bag from a sapling that was planted a few years ago. She observed that the sapling had been planted along with the polythene bag.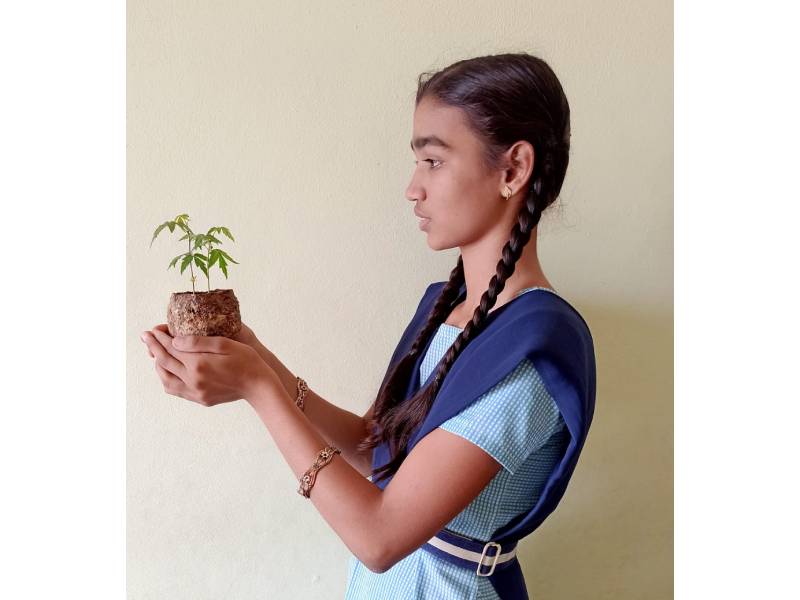 "I then got to know that many people plant the saplings along with the polythene bag, thinking that if they remove the cover, the soil around the roots will become loose and the plant will not survive. I found many polythene bags in my school premises. I also observed the wastage of polythene bags in nurseries. On top of that, polythene bags remained uncollected and were piling up as garbage in our school premises," Srija said. She then decided to find a solution to this problem and came up with the idea for a bio-degradable pot made from groundnut shells. She started working on the proposal along with her schoolmate K. Harikrishna, a student of Class VIII.
"Polythene bags are used in nurseries to propagate saplings. These are single-use plastic which is harmful to the environment as it is non-degradable and takes years to disintegrate. These polythene bags gradually break down into smaller microplastic which contaminates our soil and water, are transmitted to animal tissue, and finally enter the human food chain," Srija said.
She added, "Polythene bags create a mammoth problem as the plastic waste remains uncollected. They are conventionally used for large-scale seedling production in nurseries. These methods are practiced all over the world and are very harmful to the environment. It's sad how people don't remove the polythene bags while planting the saplings. The polythene bags used in nurseries cannot be recycled because people are planting the bags along with the plants. Also, if they remove the polythene bag, there is no process of collecting them." Besides causing environmental hazards, plastic also poses problems for the seeds, including root coiling, less fibrous root formation, poor aeration, and poor seedling growth, she said.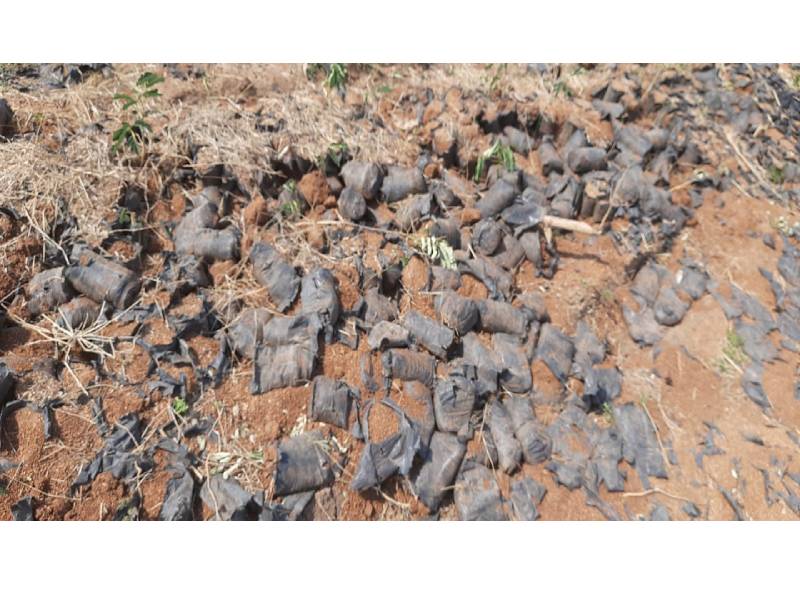 During her research, Srija found that polythene bags are being used for the plants despite the directives of the Union ministry of forest and environment to stop using polythene bags and explore alternatives for planting saplings. Srija and her team decided to make bio-degradable pots from groundnut shells to provide nurseries an alternative to plastic bags. Farmers usually burn or bury groundnut shells. They also have a slow degradation rate under natural conditions but are rich in many functional compounds and are composed of cellulose, hemicellulose, and lignin.
Mr. P. Augustine, the school assistant from Zilla Parishad High School (ZPHS), told NewsMeter, "There are several advantages of groundnut shell pots. They break down naturally in the soil in a week and have some great benefits like they can hold moisture in the soil for a long time, require less water, and are very environment friendly. The survival rate of a plant is more when planted in these pots and they also do not cause land pollution. Groundnut shell is a wonderful source of Nitrogen, phosphorus, and calcium and it acts as an organic manure for the plants, providing macronutrients as well as micronutrients. We aim to motivate farmers to supply groundnut shells to manufacture bio-degradable pots instead of burning them." He added, "We aim to replace conventional polythene bags with our bio-degradable pots and reduce plastic usage by around two million tonnes every year throughout India."
Meanwhile, Srija said, "We the students of ZPHS Chintalakunta are planning to start a nursery in the school to grow 100 saplings in bio-degradable pots this year. We plan to produce more than 5,000 bio-degradable pots and supply them to government nurseries and government schools by 2021."