Hyderabad: A group of eight Anganwadi teachers from Khammam are winning hearts after they pooled money from their own pocket to set up a community kitchen to feed poor migrant workers.
The kitchen, which was set up on April 17, has fed about 130 people in two days. The teachers have been so meticulous that they took care to donate wheat to the migrant workers who do not consume rice.
The teachers often walk to their designated villages on foot to distribute Take Home Rations (THR).
"I usually walk 2 kilometres, to and fro to reach these places, with the THR.. With all activities stopped, we have to ensure that their rations reach on time, otherwise they might go hungry," Vijayalakshmi, an Anganwadi teacher from Yerraboinapally told NewsMeter.
8 Anganwadi Teachers from Khammam set up #CommunityKitchen at their own expense, feeding about 130 needy people in 2 days. They also donated Wheat to the migrants who do not consume Rice. Anna daata sukhibhava! @MinistryWCD @smritiirani @SatyavathiTRS @Collector_KMM @umasudhir pic.twitter.com/zPYXbJI5c9

— WCDTelangana (@WCDTelangana) April 17, 2020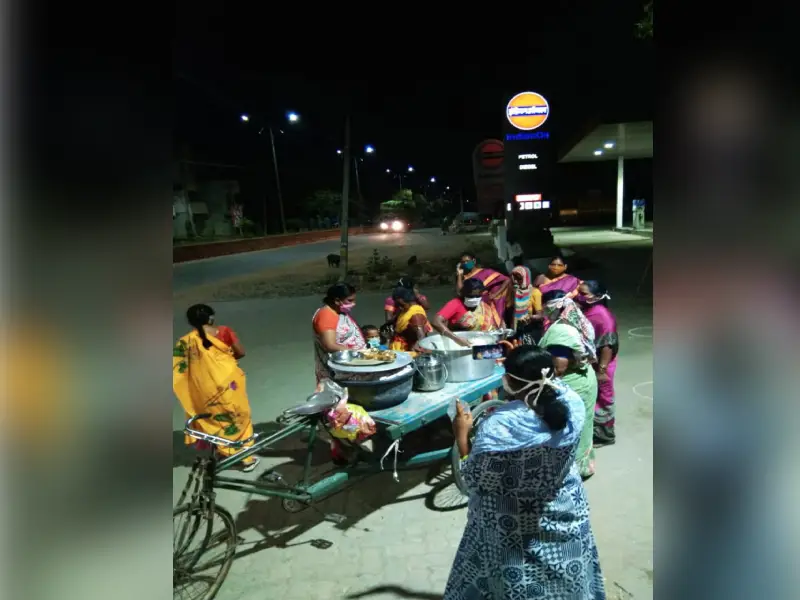 Some of these teachers have taken it upon themselves to stitch masks and deliver it to the people. J Rani from Singarajupalli, in Warangal district has made around 2,500 masks till now and distributed it to people.
"In 2 nights, I had initially made 200 face masks and presented it to the police, Gram Panchayat employees of our village and villagers. Then requests started pouring in, and sponsors also came. Now I've made over 2,500 masks and distributed it to people," said J Rani.