Hyderabad: In a radio interview of US President Donald Trump by Geraldo Rivera on Aug. 6 telecast on Fox News, Trump suggested a vaccine for the Coronavirus could be ready before the Election Day.
When asked by Rivera if a vaccine could be ready by November 3, Trump replied, "I think in some cases, yes, possible before, but right around that time." This contradicts health expert's predictions.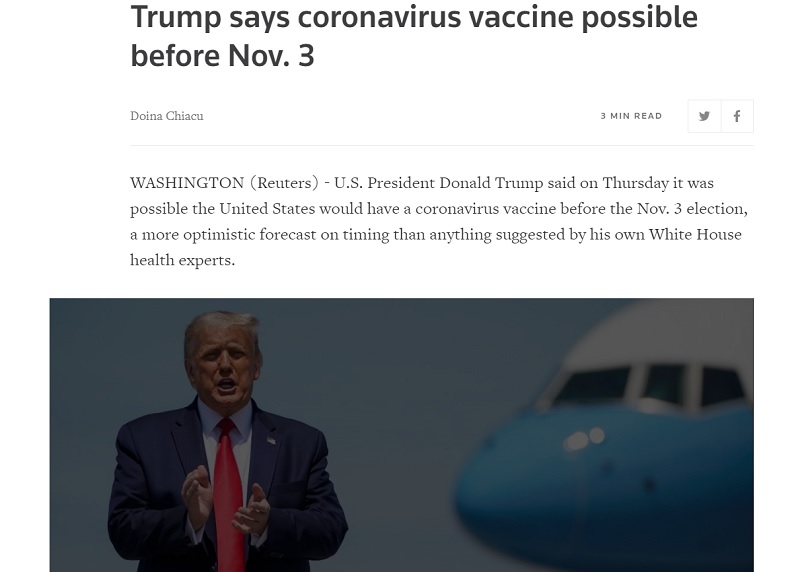 Archived article can be found here.
Fact Check:
Trump claims that COVID-19 vaccine in the USA could be ready before elections, but experts say it won't be released until next year. Hence, the claim is MISLEADING.
As per NBC News 'Experts says he needs a miracle to be right.'
Later at the White House, Trump told that he was optimistic that a vaccine would be ready around that date and noted that "It wouldn't hurt" his possibilities for re-election, he was doing this "to save a lot of lives."
The FDA may approve a vaccine at some point in November, but there is no firm timeline or guarantee to it. Even when recommended, it will take months before it's widely available across the market.
Dr. Anthony Fauci, the Director of NIAID, told Reuters that vaccine doses could be available in 2021 but it would likely not be available widely until "several months" into 2021.
A vaccine developed by Moderna and the National Institute of Allergy and Infectious Diseases (NIAID) is in its clinical trial final phase. Results from Phase 1 of that vaccine were promising, showing immune responses and more than half of the participants had usual side effects like fatigue and headaches.
A former surgeon, Gen. Dr Vivek Murthy told CNN, "I think it's very dangerous at this point to give specific dates," noting that safety and an effective vaccine remains the priority.
Collins concurred and on the same evening he told CNN that, "sooner would be better, but it's not going to get tied to any other timetables, other than making sure we've got something that works, and it's safe."
Hence, the claim that COVID-19 vaccine in the USA will be ready by November 3 is MISLEADING.
This fact check has been published as part of the Internews Information Saves Lives: Rapid Response Fund project to NewsMeter
Claim Review :
Trumps claim that COVID-19 vaccine in USA could be ready before Nov. 3
Claimed By :
Social Media User