Hyderabad: The Coronavirus spread in Hyderabad's busiest wholesale-retail market- Malakpet Gunj, has killed two persons of a family. The deceased Vinay ( name changed ) is identified to be a trader and his 78 year-old father, have died.
But here's the catch. Vinay did not contract the virus from the market or his employees, but his elder brother and co-business partner Varun (name change), who owns the next ground nut store in the gunj. (note: fictitious names have been used to avoid confusion and the deceased and infected belong to the same family)
It all began, when 50 year-old Varun, who lives in Saroornagar- Hyderabad, fell ill on the 17th of April. He was running high temperature accompanied with cough. The man, assuming no threat, popped in a Dolo 650 mg and continued to visit the gunj for work. Three days later, the family rushed him to Jeevan Sai hospital in Vanasthalipurm, where his samples were collected.
Best known to the hospital authorities and the family, the man with COVID like symptoms was shifted to OMINI hospital in Kothapet, but dint receive any treatment. The latter, on the same day, was moved to NIMS hospital and against the tall claims of the government of handing the pandemic well, no treatment was rendered and was referred to Yashodha Hospital in Somajiguda. After shifting four city hospitals, while the health continued to deteriorate, the man was tested COVID positive and admitted to Gandhi Hospital.
Following the medical reports 16 people, including his wife and two son, brother and father, inlaws, three employees, house owner, neighbours, the doctor who treated him and auto driver have been quarantined, informed Saroor nagar police inspector.
Of the many who have been quarantined, the trader's 78 year old father and 45 year old younger brother and eight other members of the family were tested positive and shifted to Gandhi Hospital.
Varun's elder son told NewsMeter, that, while his father was being treated at Jeevan Sai hospital in Vanasthalipuram, family including his uncle ( varun's younger brother) visited him. "Five people including my mother, uncle and myself visited my father in the hospital. The medical reports revealed, 10 from my family including my grand mother is COVID positive' said the youth. None from the family have travel history nor primary / secondary contact of a COVID patient. My father and my uncle run wholesale stores next to each other, it is suspected my father contracted the virus from the market'.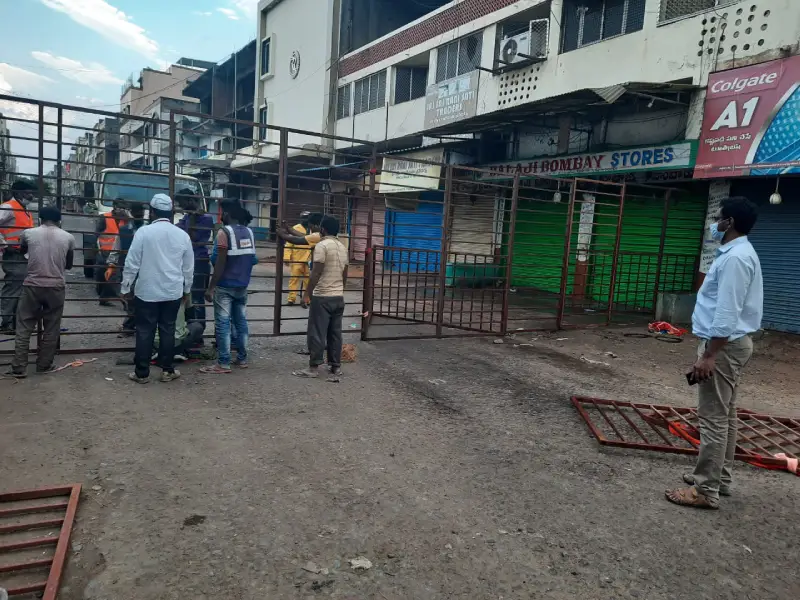 Vanasthalipuram Police Inspector A Venkataiah told NewsMeter, " The 78 year-old who died (father) was a dialysis patient, besides this he suffered from hyper tension. While the trader's brother in his mid 40 is an obesity patient. The father died on April 30th and the son next day.
On May 2nd, the GHMC, district collector's officials and Rachakonda police visited Vanasthalipuram for inspection. The Malakpet Gunj, following the reports, has been closed and demarcated as containment zone.