We are all familiar when countless times we have had our mothers or grandmothers give us turmeric milk to cure our sniffles, stubborn colds, suntan, skin woes, bruises, etc. Today it is popularly called the golden milk, and we all know that the good old haldi milk is not just hype. The magical power of this common spice available in all Indian kitchens is innumerable. This article shows how this unassuming, humble golden spice is a ready antidote that works wonders on your skin, hair, general health, and well-being.
A glass of turmeric milk can be consumed either in the morning or at night. Ideally, it is better to take it at bedtime. It is effortless to prepare the golden milk and reap the benefits of drinking milk with Haldi. To a glass of milk, add a teaspoon of turmeric powder and stir well so that it mixes thoroughly. To this, you can add some honey or sugar to enhance its taste. Your turmeric latte is now ready!
Benefits of Turmeric(Haldi) Milk:
1. Turmeric for Acne-Prone Skin:
Acne breakouts can make you feel miserable, but here is a solution to that. Turmeric loaded with anti-bacterial, antiseptic, and anti-fungal properties work best on acne-prone skin. This benefit of drinking haldi milk goes a long way to ease your problems. To a glass of almond milk, add some ginger along with coconut oil. Enhance the taste of this drink with honey or natural sugar of choice. This yummy drink helps in clearing your acne and preventing further breakouts.
2. Boosting Hair Growth:
For those of you struggling with hair thinning issues, turmeric is the best solution that can offer some respite.
Turmeric is not only a potent anti-inflammatory but is a natural antiseptic too. It contains curcumin, a compound that absorbs vitamin D, and this promotes hair growth. This simple benefit of turmeric milk for hair will go a long way in helping hair growth.
Just combine turmeric with healthy fats like coconut oil or ghee. When taken regularly, it clears scalp issues and promotes hair growth.
3. Alleviating Respiratory Illnesses:
Among turmeric milk uses, this remedy is not new to anybody, as while growing up, we all have taken this. Turmeric being antimicrobial combats viral infections. These viral infections lead to several respiratory illnesses. The golden spice work against viruses and provides us relief from congestion and blocked sinuses. Consuming a glass of warm milk with a spoon of turmeric at night relieves us from chest congestions. Add honey to enhance its taste.
4. Inhibits Cancer:
Something as simple as consuming turmeric in milk helps to prevent cancer. Long term drinking of this milk inhibits cancer cells and prevents DNA damage.
Even during chemotherapy, cancer cell growth can be kept under control and not allowed to expand. Consuming turmeric milk prevents the spread of cancer cells as turmeric contains curcumin that inhibits further growth.
5. Prevents Arthritis:
Say goodbye to all your painful joints with turmeric milk, a natural painkiller, because it is an anti-inflammatory agent. It is also called a 'Natural aspirin.' The anti-inflammatory properties help to reduce swelling, as inflammation leads to pain in our joints. Drink turmeric milk regularly, and with time, you will be able to experience relief from your joint pain and also increased flexibility. Boil milk with a spoon of turmeric powder in it, or you can even add fresh turmeric root to it. Strain this milk and drink it warm or cold.
6. Cold Prevention:
If you are down with cold, and a heavy head, this age-old remedy works best as turmeric contains anti-bacterial and antiviral properties. Turmeric works effectively as a cold remedy because of the heat it generates in our body. It helps to combat the most stubborn common cold and congestion and sore throat and cough. Heat some milk and add a clove of garlic to it. Next, add half a spoon of turmeric and drink this two times a day to beat your cold.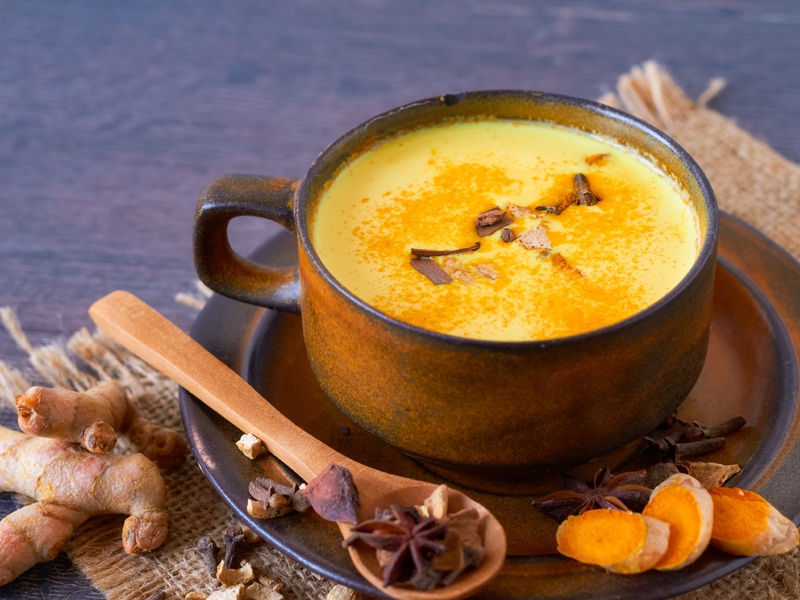 7. Aids Weight Loss:
For those of you who are saddled with extra pounds and are struggling desperately to lose weight, then turmeric can help you. Turmeric combats obesity by breaking down the accumulated fat in our bodies. Obesity can lead to several underlying health issues.
Regular use of turmeric tea helps you with your fat issues. It keeps you active by boosting your metabolism. It is easy to prepare this tea. To a cup of milk, add little less than a tablespoon of turmeric along with a quarter teaspoon of pepper powder and some grated ginger. Let this simmer for ten minutes. Consume this after straining and cooling it. Turmeric milk for weight loss is useful for people of all ages.
8. Insomnia:
Turmeric milk is ideal for getting rid of your panda eyes. If you are worried about looking tired all the time, you can go for the turmeric latte. The tryptophan, an amino acid, can work wonders in providing you with peaceful, blissful sleep. Add turmeric to either almond milk or plain milk along with ginger and cinnamon. Use honey to enhance the taste. This remedy can be tried by both young and old who can reap the benefits of turmeric milk at night and get rid of insomnia.
9. Good For Digestion:
For those of you suffering from indigestion or heartburn, this remedy would be the best solution to alleviate your discomfort. Curcumin found in turmeric is fat-soluble, so it enables easy absorption by our body. It keeps bloating away. Add one a teaspoon of turmeric to half a cup of coconut milk along with some ginger and cinnamon with one pinch of pepper powder. Add honey to enhance the taste. This would be a perfect remedy for your indigestion.
10. Menstrual Cramps:
This remedy is unknown to many people, but this is an ideal remedy for women who suffer from menstrual cramps every month. The presence of curcumin in turmeric milk works as a natural pain killer, and because of it's antispasmodic characteristics, it helps to ease the pain. Adding a quarter teaspoon of turmeric to a cup of water and lemon juice can help reduce the pain due to cramping. You can enhance the taste by using a sweetener of your choice like honey.
11. Glowing Skin:
This remedy is one that everybody is familiar with, and no bride-to-be goes without it. The turmeric milk brings a golden glow to the face and fades away blemishes. It is a part of our tradition to use turmeric as it has several skin benefits and works from within due to the presence of antimicrobial properties of the turmeric milk. The anti-inflammatory and antioxidant properties keep premature aging away. To a cup of warm milk, add turmeric and sweeten it with jaggery. This grandma's humble potion goes a long way to brighten and clear our complexions.
12. Purifies Blood:
The curcumin in turmeric works as a blood cleanser while boosting blood circulation. It helps to clean the lymphatic system and acts as a blood thinner. It generates red blood cells and accelerates the wound healing process. To prepare turmeric tea with pepper, boil two cups of water, add half a teaspoon of turmeric. To this, add some pepper and enhance the taste of the tea with some honey.
13. Liver Detoxification:
A perfect remedy to detoxify your liver is with turmeric milk. It also helps to purify it. We must remove the waste products from our body. Turmeric also protects the liver from any injury. Having a glass of warm water with half a teaspoon of turmeric and some pepper every morning helps in flushing out all the toxins and keeps you healthy.
14. Make Bones Stronger:
As children, we have been told to drink more milk and that it will make our bones stronger, but did you know that turmeric has a role to play in improving our bone density. Curcumin in turmeric helps to keep osteoporosis at bay and helps repair and strengthen bone mass. Our good old turmeric milk is all that we need to take on a long term basis to keep our bones healthy and strong.
15. Boosts the Immune System:
We are all familiar with adding turmeric to our food as it is a part of Indian cuisine. Among the various health benefits of Haldi milk, turmeric aids in boosting our system, especially when we are down with flu, it helps us to recoup and get better soon. It helps to fight infection. A cup of hot milk with ginger, cardamom, and vanilla essence, along with a pinch of powdered cloves, goes a long way to make a yummy drink that helps our immune system.
Turmeric Milk Side Effects:
Turmeric milk also has it's share of disadvantages if not used correctly or taken in excess.
For those of you suffering from blood pressure, excess curcumin can be dangerous.
Some people can end up with a rash when they take turmeric in excess
Excess turmeric can affect the liver if not taken in proper amounts while using it for detoxification.
Excess amounts of turmeric can lead to kidney stones in some people.
Excess of it can cause you to end up with an upset stomach
It can lead to nausea and headache too.
It can cause uterine bleeding during pregnancy, so exercise caution while using it during pregnancy.
If you have any underlying disease condition, make it a point to consult your doctor before taking it on a long-term basis.
Now that we have shared the best remedies, precautions to be taken to avoid the side effects of Haldi milk, try and see which one suits you the best. Remember, before trying any turmeric-based remedy, we suggest you seek your doctor's opinion, especially if you are suffering from any chronic diseases because inappropriate Haldi consumption may have side effects. Please do let us know which ones helped you the most and share your experience with us.