Fact Check: Kerala 2019 notification offering jobs to Scheduled Caste Converted Christians goes viral again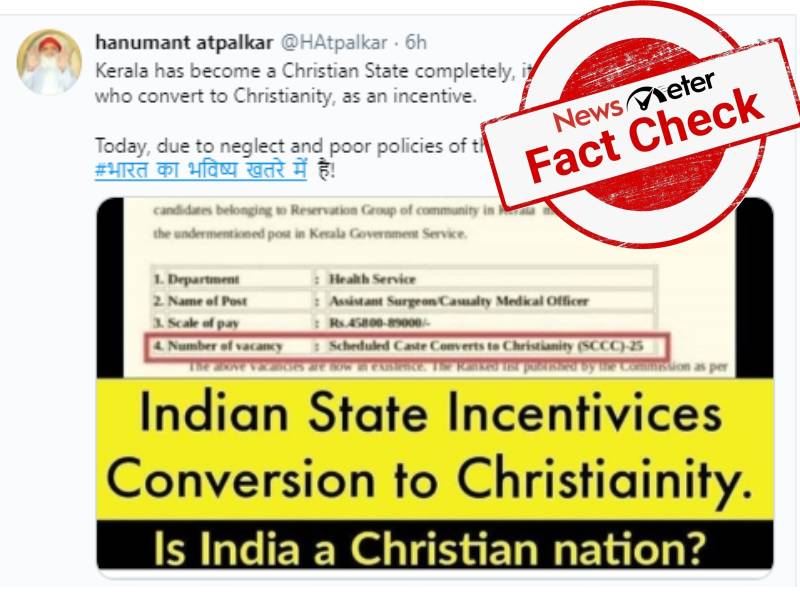 Hyderabad: Under the '#भारत_का_भविष्य_खतरे_में' (Future of India under threat), a Kerala Gazette notification of August, 2019, states that it has 25 vacant posts of Schedule Caste Converted Christians (SCCC).
A Twitter user shared the notification and said, "Kerala has become a Christian state completely, it openly employs people who convert to Christianity, as an incentive. Today, due to neglect and poor policies of the Government Of India #भारत_का_भविष्य_खतरे_में है! (Sic)"
Fact Check:
This claim is Misleading. It is true that the Kerala government issued such a notification; we found the notification on Kerala's official website. https://www.keralapsc.gov.in/sites/default/files/2019-07/cat-109-2019.pdf
The job offer is for assistant surgeon or casualty medical officer. The gazette notification further reads that, "This is the third NCA notification published due to the non-availability of sufficient candidates belonging to the SCCC community for the post as per first NCA Notification dated:26.12.2014 (Category No.597/2014) and second NCA Notification dated:30.12.2016."
We also found news articles which state that Kerala government is unable to find qualified personnel under the SCCC category for assistant surgeons/casualty medical officer position.
https://www.hindustantimes.com/education/kerala-fails-to-get-medics-from-reserved-category/story-1lKI5p4DMOUGwGOG6RvtuJ.html
What is the KSCCC reservation category?
The Kerala state government has a separate department for SCCC called the Kerala State Development Corporation for Christian Converts from Scheduled Castes and the Recommended Communities Ltd.
According to the Kerala government official website, "Kerala State Development Corporation for Christian Converts from Scheduled Castes and the Recommended Communities Ltd., Kottayam, was incorporated in 1980 under the Companies Act, 1956, with the main objectives to promote the comprehensive social, educational, cultural and economic upliftment and other living conditions of the Christian converts from Scheduled Castes and the recommended communities."
https://kerala.gov.in/kerala-state-development-corporation-for-christian-converts-from-scheduled-castes-and-the-recommended-communities-ltd.
Under this SCCC, people have reservation for several government jobs, including the Kerala State Public service Commission jobs.
But establishment of such an organization doesn't mean that Kerala is a Christian state or is providing incentives for converted Christians, hence the claim is misleading. It also has reservations for many backward Hindu communities.
https://www.keralapsc.gov.in/rules-reservation
Claim Review :
Kerala 2019 notification offering jobs to Scheduled Caste Converted Christians
Claimed By :
Social Media Users