Hyderabad: As part of the Central government's Vande Bharat Mission, Air India has brought home 1,75,687 Indians stranded in foreign nations as of 5 July. Of these, 19,000 people landed at Hyderabad's Rajiv Gandhi International Airport (RGIA).
In the first three phases of the mission that was launched on 7 May when the country was under strict lockdown, Air India operated 844 flights and brought back 1,61,527 Indians stranded abroad. In the ongoing fourth phase, which was initiated on 1 July, 80 Air India flights have brought back 14,160 citizens, sources told NewsMeter. Under the current phase, inbound and outbound flights will operate until the end of the month.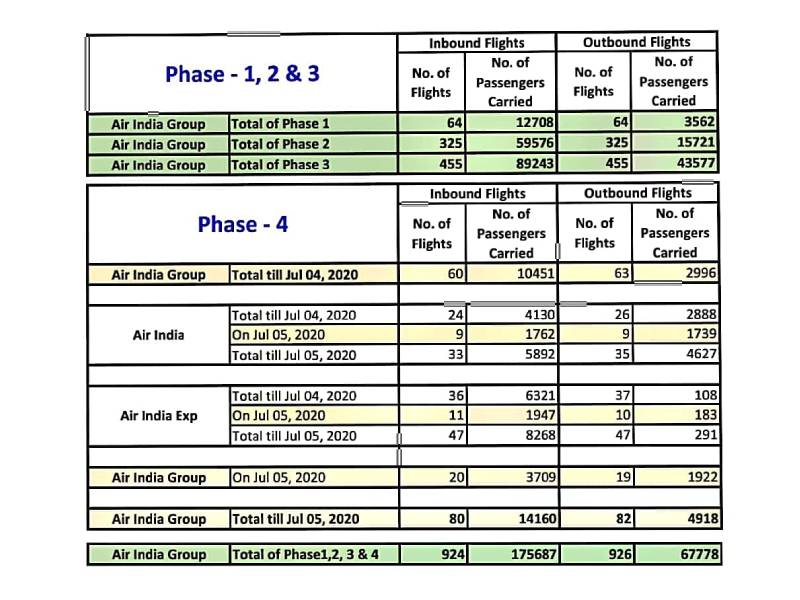 (Source / Air India)
As for foreign nationals stranded in India, 43,577 were flown back to their home countries in the first three phases of the mission, while 4,918 more international citizens were sent home in the ongoing phase. A total of 926 outbound flights operated under the mission.
Meanwhile, 120 international flights landed at RGIA that brought back Indians from the US, Russia, the UK, and several south Asian, African, middle-eastern, and central Asian countries. Apart from the Vande Bharat Mission flights, the RGIA has recovered its footfall ever since domestic flights in the country resumed.
According to sources, the airport is currently operating 60 inbound and 60 outbound flights on a daily basis. After the resumption of domestic air travel on 25 May, the domestic airport witnessed an average of 3,000 footfall only. But the number has now increased to 12,000 passengers every day.
With strict adherence to ICMR guidelines, the RGIA has been able to send domestic flights to 40 destinations daily. Thermal scanning at the entry and exit points, baggage sanitisation, contact-less check-in, and ensuring social distancing by dividing people into groups, are some of the protocols being followed, NewsMeter has learned.
Hyderabad International Airport
The domestic operations at the Rajiv Gandhi International Airport began on 25th May onwards. From 39 air traffic movements (20 departures and 19 arrivals) on the first day of the airport's recommencement, currently, RGIA is handling an average of around 120 air traffic movements (60 departures and 60 arrivals) daily.
According to the officials, The passenger movement has also increased substantially. On the first day (25th May 2020) where the passenger footfall was close to 3000 including both departures and arrivals, now the airport is handling approximately of 12000 passengers daily.