Kids and snacks are inseparable! A bowl of rice might scare them away, but not a packet of crunchy chips. If you are just like a million other moms worried about your kid consuming unhealthy food, then you are at the right place! We have done a roundup of 10 Quick and Healthy Indian snacks for kids, which your little one will devour like a hungry wolf!
Not only do these snacks satisfy the tastebuds of your children, but also offer a good amount of nutrition to keep them energized and satiated for long. We bet even you will love munching on these healthy and tasty homemade goodies!
10 Healthy Indian Snack Recipes for Kids:
Here are 10 easy to prepare snack recipes for kids which work well as evening snacks or even to impress a bunch of hungry kids at a birthday party:
1. Sprout and Fruit BhelPuri:
Kids hate eating sprouts and fruits. So, why not sneak them into their favorite street-style bhelpuri? This is a easy Indian evening snack for kids which involves no cooking. The nutrition value is also quite high with tons of protein, fiber and vitamins coming in from sprouts and cut fruits. The added spices and puffed rice leaves a chatpata taste in the mouth, which can leave your kid super happy!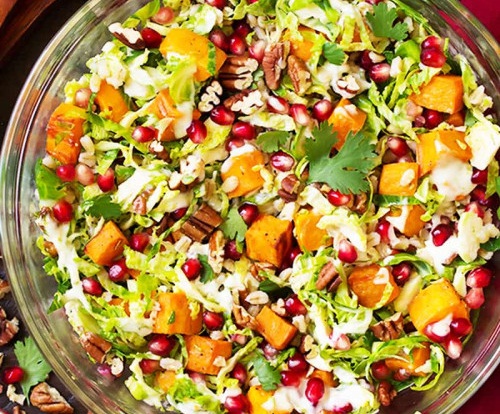 Here's what you need:
Ingredients:
Puffed Rice – 1 Cup

Salt – ½ tbsp

Chat Masala – ½ tbsp

Boiled Mixed Sprouts – ½ Cup

Assorted Cut Fruits – ½ Cup

Finely Chopped Coriander – 2 tbsp

Finely chopped mint leaves – 1 tbsp

Lemon Juice – 1 tbsp
Method:
In a bowl, add boiled sprouts and cut fruits to puffed rice

Now add some salt, chat masala

Toss them well

Finish it with some lemon juice, coriander leaves and mint leaves

Enjoy it fresh
2. Cheesy Veg Grilled Sandwich:
Nothing can satisy the hunger of a kid than a nicely done sandwich. Especially when it is loaded with crunchy vegetables and gooey cheese, there is no way your child can resist this deliciousness. It can be had for breakfast or even as a school snack for kids. This recipe can be made on a tawa or a grill and requires no more than 15 minuts of your time.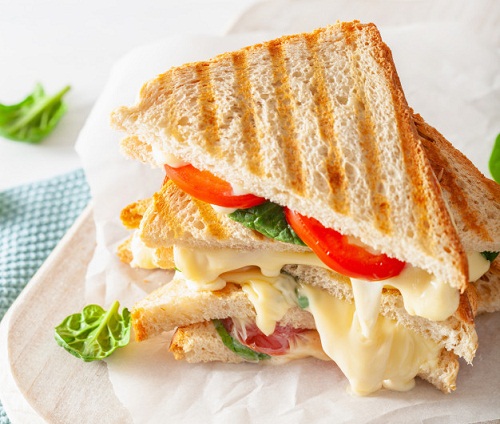 Here is the recipe (serves 3):
Ingredients:
Multigrain Bread - 6 Big Slices

Butter – 2tbsp

Grated Carrot – ¼ Cup

Finely diced Capsicum – 1/4 Cup

Finely chopped onion – ½ tbsp

Boiled Sweet Corn – ¼ Cup

Herbs Mix – 1/2 tbsp

Pepper Powder – ¼ Tbsp

Grated Mozarella Cheese – 1 Cup
Method:
In a bowl mix all the veggies, herb mix and pepper powder

Spread the butter evenly on the bread slices

Now on one slice, add the vegetable mixture prepared earlier and spread well

Generously sprinkle the grated cheese on top

Cover it up with the second bread slice

Grill it or toast it on tawa until crispy and golden brown

Serve it with some tomato ketchup
3. Crispy Aloo Tikki:
Aloo tikki is one of the most popular Indian snacks for birthday parties at home. They are made with boiled potatoes and a good amount of spices, which every kid love to eat. Unlike the street-style aloo tikkis which are deep-fried, this recipe involves shallow frying the tikkis to reduce the amount of oil consumption. Quick tip- You can also use this tikki as a potato patty in your desi burger. Sounds like a deal?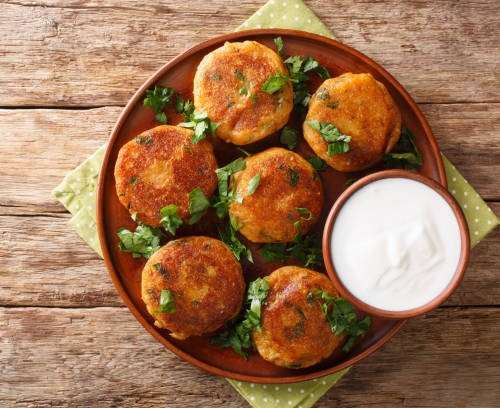 Here's the recipe:
Ingredients:
Boiled Potatoes – 2 Medium Sized

Ginger Garlic Paste – 1 tbsp

Garam Masala – ½ tbsp

Chat Masala – ½ tbsp

Jeera Powder – ½ tbsp

Chilli Powder – ½ tbsp

Salt – to taste

Finely chopped coriander leaves – 1tbsp

Corn flour – 2 tbsp

Bread Crumbs – 2-3 tbsp

Oil – for shallow fry
Method:
Mash the boiled potatoes in a bowl

Add ginger-garlic paste, garam masala, chat masala, jeera powder, salt and chilli powder

Add coriander leaves and mix well

Now make small balls of this mixture and flatten them into thick patties

Dip them in a cornflour and water mixture

Coat them in a layer of bread crumbs

In a kadai, heat some oil and shallow fry the patties until crisp and golden

Serve them hot with some pudina chutney
Also Read: Top Schools In Secunderabad
4. Tasty Pizza Dosa:
Is your kid craving for pizza? Instead of ordering one, you can make it quickly at home using dosa batter! The result is a tasty dosa pizza that is sure to turn into your kid;s new favorite snack. All you need is some dosa batter which we usually have at home, some cheese, veggies and pizza seasoning. That's all! Turn that boring South Indian dosa into a stringy, appetizing pizza in just a few minutes!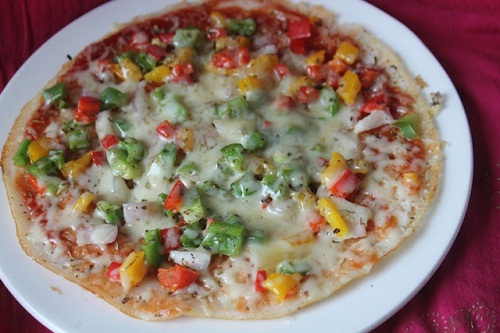 Here's what you need:
Ingredients:
Dosa Batter – 1 big ladle

Mozzarella Cheese – ½ Cup grated

Shredded Capsicum – ¼ Cup

Tomato Discs – 3-4 pieces

Olives – Few pieces (Optional)

Boiled Corn – ¼ Cup

Pizza Seasoning – ½ tbsp

Tomato Sauce – 2 tbsp
Method:
Heat a nonstick tawa and grease it with some oil

Now spread the dosa batter thin and evenly on the tawa. The bigger the better!

Coat the dosa surface with tomato sauce and add vegetable toppings

Cover it with grated mozzarella cheese generously and sprinkle pizza seasoning

Cook on medium flame until the base gets crispy and the cheese melts on the surface

Do not flip and take it off the heat

Serve it hot with some ketchup
5. Choc-o-NutLaddoo:
Who can resist a laddoo? Especially when it is loaded with chocolate and crunchy nuts, you will find it hard to keep your kid away from these tasty and healthy sweet Indian snack. The toasted nuts like cashews, almonds and walnuts provide essentials fats required for growing children. Replacing sugar with dates increases the nutritional value of this sweet treat. So, let your kid enjoy this delicious goodness, guilt-free!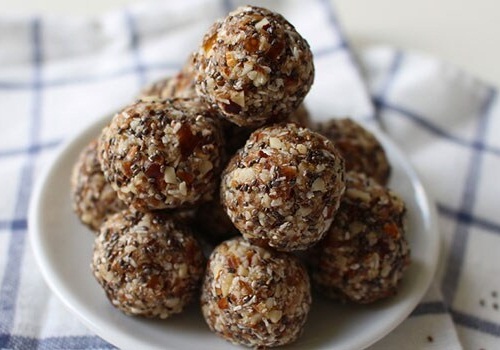 Here's what you need:
Ingredients:
Nuts (Almonds, Walnuts, Pistachios, Cashews) – 1 Cup

Dates – 1 Cup (Finely chopped)

Cocoa Powder – 4 tbsp

Vanilla Extract – 1 tbsp

Ghee – 1 tbsp
Method:
In a hot pan, dry roast the nuts and set them aside to cool

Heat the chopped dates in a pan to soften them

In a blender, blitz the nuts to make them into a coarse powder

Add cocoa powder, vanilla extract and nuts to the date paste

Mix well to form a dough

Grease your hands with ghee and Make small balls out of this dough

Optional: Roll them in the leftover nuts powder for extra crunch
6. Indian Style Masala Pasta:
Impress your kid with this tangy and spicy Indian style pasta recipe! This filling snack works well for lunch boxes, after-school snack and even for dinners. You can easily prepare it at home using regular masalas and spices available in your kitchen. Instead of maida pasta, this recipe uses whole wheat pasta for increased fiber, complex carbs and minerals. Also, load it with fresh vegetables to make it healthier.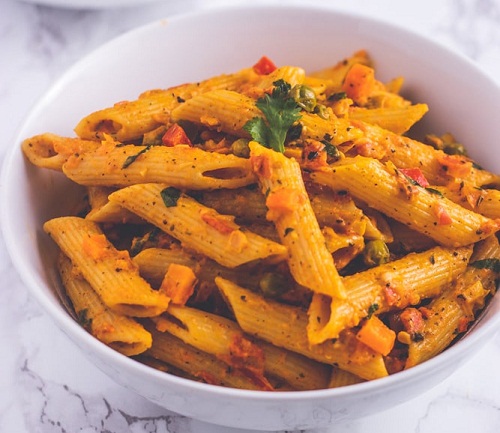 Ingredients:
Whole wheat pasta – 1 Cup

Fresh Tomatoes Chopped – 1 Cup

Green peas – ¼ Cup

Carrots – ¼ Cup

Onions Chopped – ¼ Cup

Chopped Garlic and Ginger – 1 tbsp

Garam Masala Powder – 1 tbsp

Salt – to taste

Red Chilli powder – 1 pinch

Oil – 1 tbsp

Fresh Cream - Optional
Method:
Boil pasta in water with salt

Keep them aside to cool

In a pan, heat some oil

Add finely chopped onions, ginger and garlic

Cook them until soft

Now add tomatoes, carrots, green peas

Sprinkle some salt and cover the lid

Let them cook until tomatoes turn mushy

Now add garam masala and red chilli powder

Toss in the boiled pasta and mix well

Add some fresh cream for enhanced taste and creamy consistency



Also Read: Best Baby Products Brand
7. Tangy Paneer Frankie:
Have leftover rotis from today's lunch? You can easily transform these boring chapatis into mouthwatering evening Indian snacks for kids. This recipe used Fresh paneer or cottage cheese rolled into a tangy tandoori sauce to leave a tantalizing taste in the mouth, along with offering a good amount of protein and calcium. So, if you have a fussy kid who refuses to eat regular roti and curry, try making this frankie and thank us later!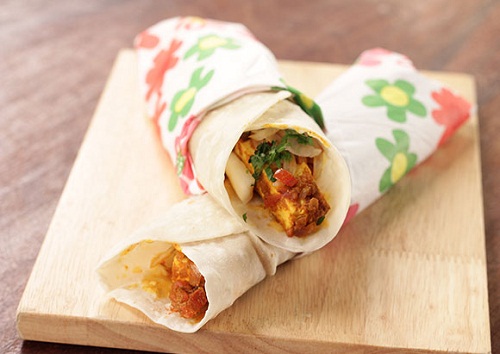 Ingredients:
Whole wheat chapatis – 2-3

Tandoori Sauce or Mayo – 2 tbsp

Fresh Paneer Cubes – 1 cup

Sliced Onions – 1

Capsicum thinly sliced – 1

Oil – 1 tbsp
Method:
Heal some oil in a pan

Add onion and Capsicum

Cook them until soft

Now add paneer cubes and tandoori sauce

Mix well until paneer turns soft

Now take a chapati and spread this filling in the center

Add some fresh onions for extra cruch

Roll the chapatis vertically and fold the ends

Serve them with ketchup
8. Roasted Makhna Popcorn:
PhoolMakhna (Lotus Seeds) or fox nuts are a healthy alternative to greasy, salty popcorn. They are high on nutrition and low in calories making them a perfect movie-time snack for your kids. You can also customize the seasoning as per your taste and experiment with different varieties of flavours. From spicy masala to basic salt and pepper, this easy Indian snack can be made as per the different moods of your kid.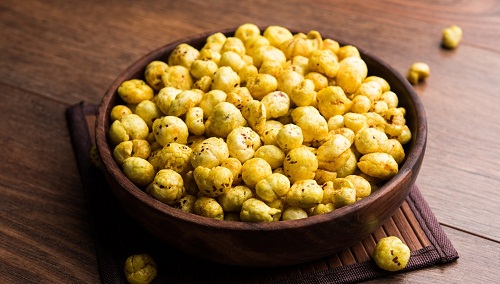 Ingredients:
PhoolMakhna – 2 Cups

Turmeric Powder – ½ teaspoon

Red Chilli Powder – ½ teaspoon (Optional)

Chat Masala – 1 teaspoon

Pink Salt or Rock Salt – to taste

Ghee – 2 tbsp
Method:
Heat some ghee in a kadai

Now roast the makhna in this ghee for 10 minutes or until crisp

Keep stirring to avoid getting them burnt

Now turn off the flame and while the makhna is still hot, add all the spices

Toss well for coat all the makhna evenly with spice and salt

Enjoy them fresh
9. Healthy Chickpea Sundal:
If you are looking for a easy south Indian snack for kids, then try this Chickpea Sundal. It is a great option during the festive season when you end up with loads of chickpeas at home. Chickpeas are rich in protein and fiber, making it an excellent snack for school going kids. It also used fresh coconut, which equally supports good health. Since you are boiling the chickpeas, you need not worry about digestion problems.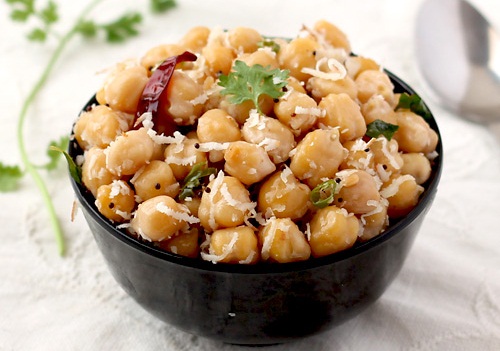 Ingredients:
Soaked and Boiled Chickpeas – 1 Cup

Oil – 1 tbsp

Mustard Seeds – ½ teaspoon

Jeera – ½ teaspoon

Dry chilly – 1

Curry Leaves – 5-6

Ginger pieces – ½ teaspoon

Hing – 1 pinch

Grated Fresh Coconut – 2 tbsp

Salt – as per taste
Method:
In a pan, heat some oil

Add mustard seeds, jeera, curry leaves and dry chilly

Once they start spluttering, add in the boiled chickpeas

Add some salt and stir well

Now turn off the heat and add some freshly grated coconut

Serve hot
10. Easy Bread Upma:
We know your kid hates upma! But have you ever tried making this delicious bread upma? You can make this tasty Indian snack for kids in just 10 minutes. So, if you have a few slices of bread, don't bore your child with a jam toast. Instead, try this masaledar upma recipe that will make you kid want for more. You can even try this recipe for weekend breakfast and impress the entire family with your new-found culinary skills.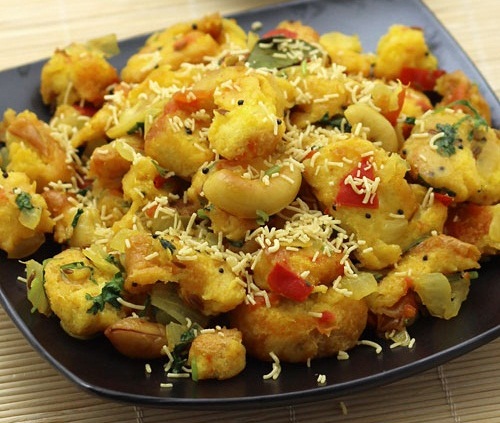 Ingredients:
Brown Bread Slices – 2-4

Oil – 1 tbsp

Mustard Seeds – ½ teaspoon

Urad Dal – ½ teaspoon

Jeera – ½ teaspoon

Green chilly chopped – ½ tbsp

Ginger chopped – ½ tbsp

Curry Leaves – 4-5

Finely chopped onion – ¼ Cup tbsp

Finely diced tomatoes – ½ Cup

Turmeric – 1 pinch

Water – 3-4 tbsp

Salt- to taste

Lemon juice – 1 tbsp
Method:
Firstly, toast the brown bread slices on a pan until they get crispy

Shred them into pieces and put them aside

In a kadai, heat some oil and add mustard seeds, urad dal, chilly, ginger and curry leaves

Now add onion and cook until soft

Add tomato, salt and turmeric powder

Cook until mushy

Add very little water and mix well

Now transfer the shredded bread pieces to this mixture

Mix well until all the pieces are well coated

Turn off the heat and add some lemon juice

Mix well and serve hot



Also Read: Food To Increase Children'S Height
So mommies! We have sorted out your meal options with these popular Indian snacks for kids. You are free to customize them as per the tastes of your children. After all, no one knows what they like better than you do! If you have any more such easy and healthy snack recipes, do share them with us. We'd be happy to feature them here!