Gone are those days when leg mehndi designs were confirmed to putting a line or two on the feet! Today, women seek for elaborate patterns that are rich in floral motifs, animals, birds, abstract designs and what not! Whether you are looking for a simple foot mehndi or a heavy and intricate bridal pattern, these 15 Leg Mehndi Designs are not to be missed!
Scroll down to take a look at each of these artistic mehndi patterns on leg and save the ones you love the most!
15 Simple and Easy Leg Mehndi Designs To Try in 2020:
Curious to know the latest trends in leg mehndi designs for 2020? Read along:
1. Artistic Peacock Mehndi on Legs: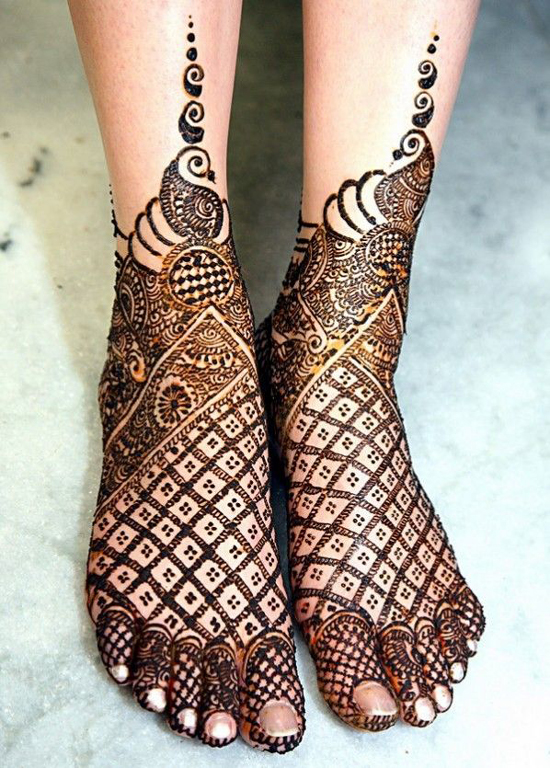 The beautiful bird Peacock has always inspired Mehndi artists! This one is a modern interpretation of the traditional Peacock mehndi design that is artistically done on the legs and feet. A mix of patterns are used on various parts of the feet. Checks are opted for the main area and abstract motifs are done on the fingers. The ankle part is beautifully elevated with Arabic and peacock designs. It is a free hand design which anyone can do with a little practise.
2. Simple Arabic Leg Mehndi Design: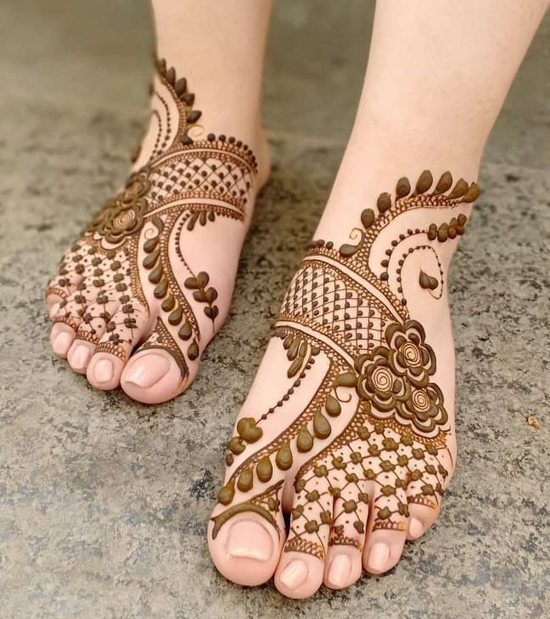 If you are a newbie to Mehndi designs, this pattern can boost your confidence. The simple design gives the illusion of thin, delicate jewellery on the feet. To achieve this, you can start from just below the ankle with slanting lines and keep filling them. While moving up, towards the fingers, change the patterns and include some floral motifs, checks and drops. Color your nails with a nude nail polish to let this mehndi shine!
3. Bridal Anklet Mehndi Design on Leg: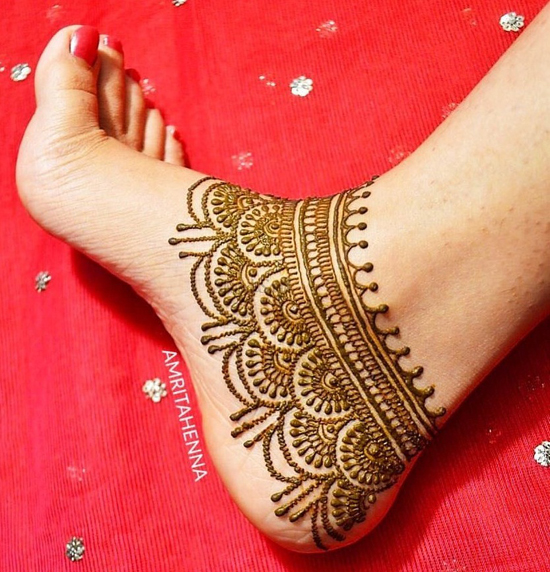 Here is another beautiful leg mehndi design that can replace your heavy Ghungroo. The anklet-inspired design features similar motifs arranged in three layers to create the desired look. Firstly, draw a line on the point from where you want the Mehndi to start. Now fill them up with lines and dots and move downwards to create the floral lace like pattern. Lastly, add some tassels with mehndi on the edges to make it look realistic.
4. Round Mehndi Design on Foot: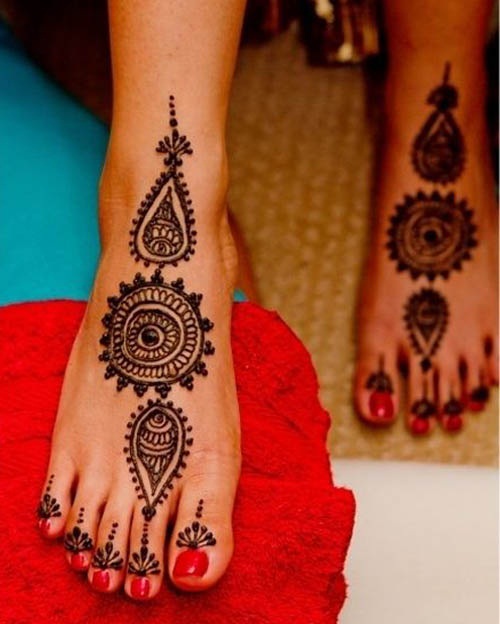 If you are looking for a minimal, yet glamorous Mehndi design on legs, try this idea! It features an easy circular pattern in the center. Depending on your choice, you can add as many circles as you want to widen the size. Now, add the oval patterns which resemble a shell conch on the top and bottom. Highlight the fingers by adding the drops below the nails. Does this bring up the image of Shanku and Chakra?
5. Elegant Mehndi Design on Sides of Feet: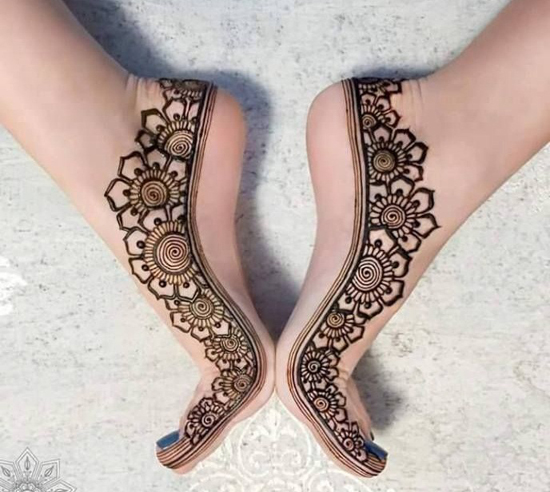 Check out this lovely mehndi design that highlights the sides of your feet. The pattern features a geometric arrangement of floral patterns which give the look of a blooming garden. You can alter the sizes of the flowers and keep the large ones in the center and decrease the size on the sides. As a base, add multiple straight lines in thick and thin sizes to make your feet look glorious.
6. Heavy Paisley Leg Mehndi Design for Weddings: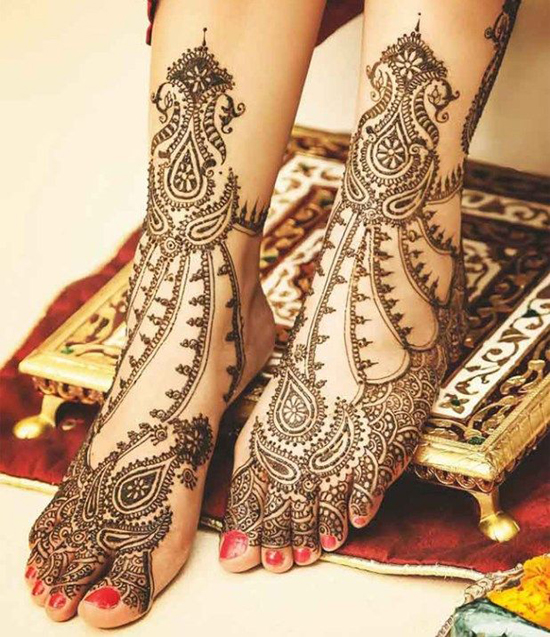 Here is another picture-perfect Mehndi design for a bride to flaunt on her wedding day! The uniqueness about this pattern is the use of Paisleys which add a decorative look to your feet. You can start it from above the ankle joint and draw a couple of lines to resemble the metallic strands of a "Payal". Keep adding details and layer them with more paisleys and geometric motifs. You can use a solid layer of Mehndi on the back of the leg to give it a finishing touch.
7. Floral Mehndi Design on Foot and Finger: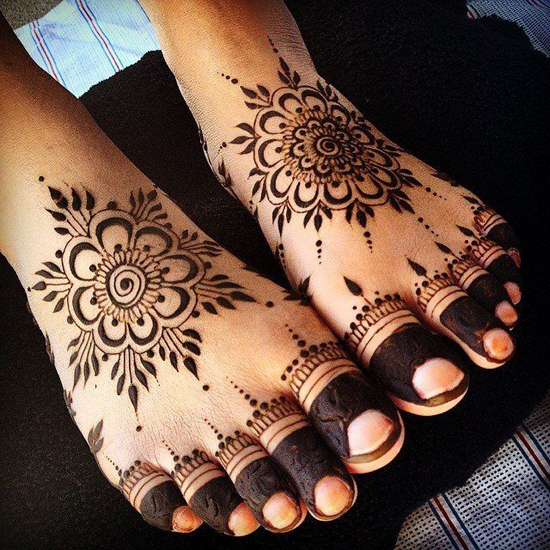 Show everyone how much you love florals with this gorgeous leg mehndi design. The spotlight is on the foot and the fingers, which works well for those who are getting ready for small festivities. The center spot is reserved for a lovely flower with big petals and delicate leaves popping out. The sides are also adorned with matching leaf pattern, while the fingers are given a ring like design with solid Mehndi for deeper color.
8. Traditional Style Half-Leg Mehndi Design: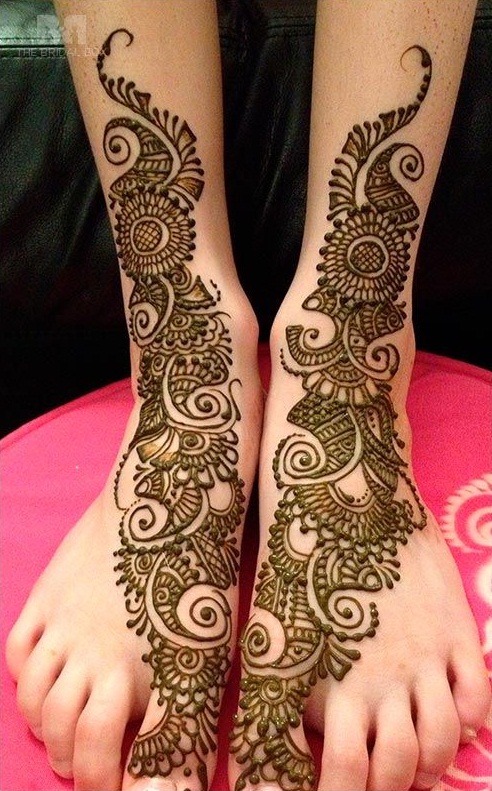 Here is an exquisite Mehndi design pattern that covers your toe nail and goes all the way up! The pattern is a mix of different motifs like flowers, mangoes, creepers and everything that you typically notice in a traditional mehndi design. From a distance, it looks like the plume of a bird opening up and showing off its beauty! You can also increase the length depending on the outfit you have chosen for the occasion.
9. Sandal Straps Leg Mehndi Design: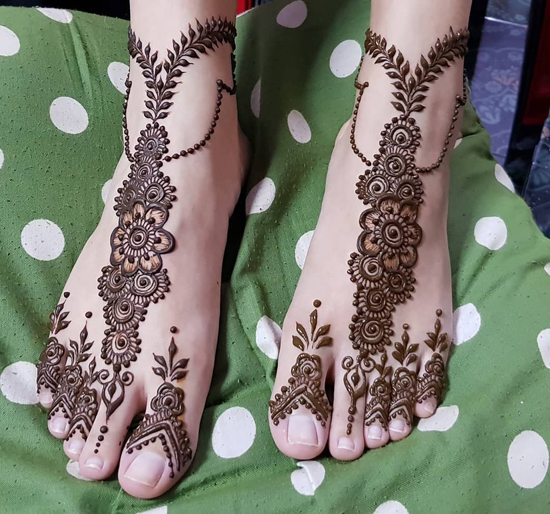 Your search for a creative leg mehndi design ends here! Take a look at this picture and tell us what you see! The image of a sandal strap, ofcourse! The artist has taken inspiration from the dainty lace straps of ladies footwear and converted that into a piece of henna art. Ever single element is paid attention to, starting from the anklet support belt to the center strap and the toe ring. Don't you simply love this idea?
10. Elephant Mehndi Design for Brides: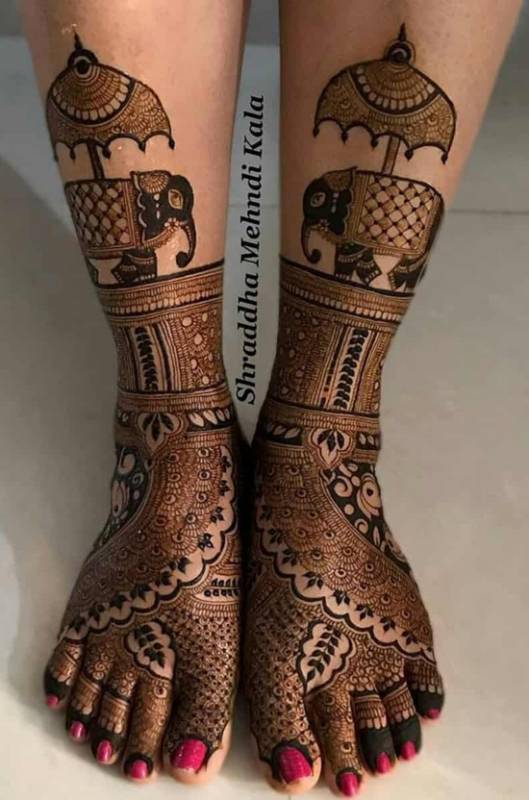 Give a royal touch to your wedding mehndi design with this amazing elephant concept. The highly detailed leg mehndi pattern features two elephant chariots on the top. Before you say "Wow", your eyes gradually shift to the lower part, which features intricate detailing of leaf motifs. The use of thin strokes and thick, solid lines add a depth to the overall design. You can also replace the Ambaris with human figurines.
11. Stylish Mehndi Design on Foot: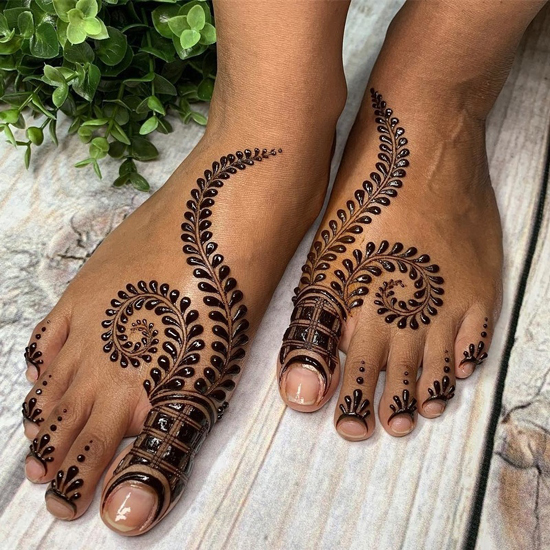 This glossy mehndi design reflects your unique taste and personality! The simple, yet aesthetically done leg mehndi pattern is done with a combination of 3-4 motifs. When combined, they reveal a spectacular design on the foot without having to work too hard. You can highlight the toe nail with boxy checks and give dainty touches to the rest of the toes. Reserve the design to just one side of the foot to add a modern feel.
12. Minimal Leg Mehndi Design: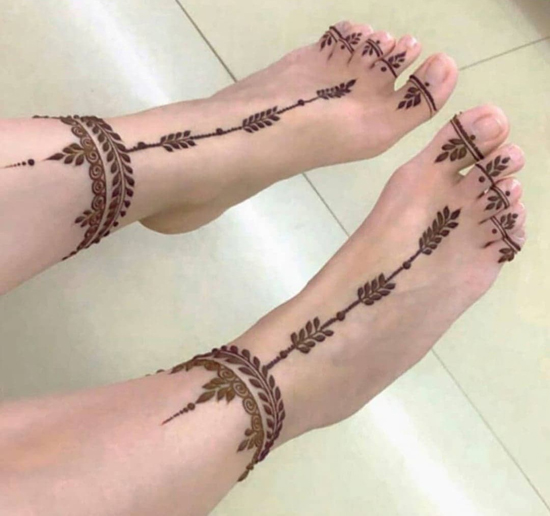 If you believe in the "less is more" concept, then this leg mehndi design is sure to allure you. The easy peasy pattern can be made by drawing a line on the center and decorate it with leaf and dot pattern. Use the same concept on the fingers and the ankle joint. To make it more detailed, add a spiral band on top and get ready to take pictures! Have you noticed the wavy pattern used on the toes?
13. Unique Rose Mehndi Pattern on Side Foot: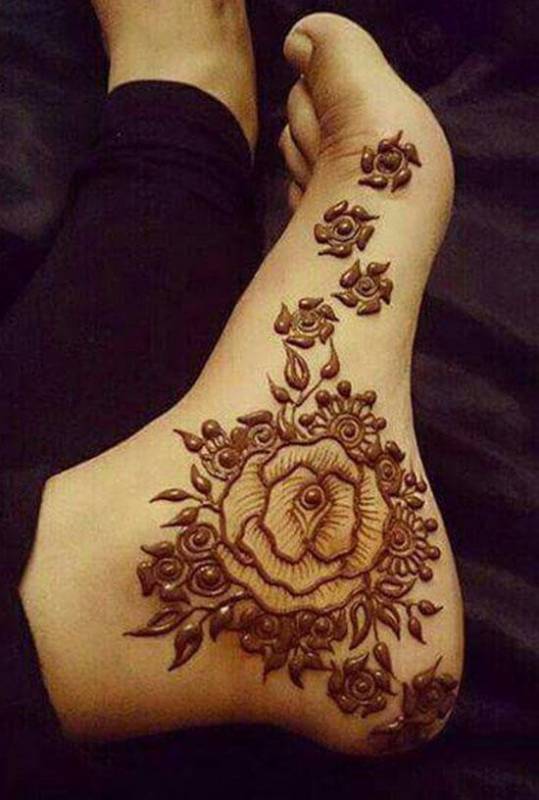 If you are willing to try something different to stay apart from the crowd, pick this design. The innovative leg mehndi pattern features a beautiful bloomed rose, with all its leaves and buds. You can take the Rose motif as your central theme and develop it further by adding various patterns around it. Keep extending the design until you get a decent size. Add tiny floral patterns on the empty area to add a rich feel.
14. Creative Mehndi Design on Back of Foot: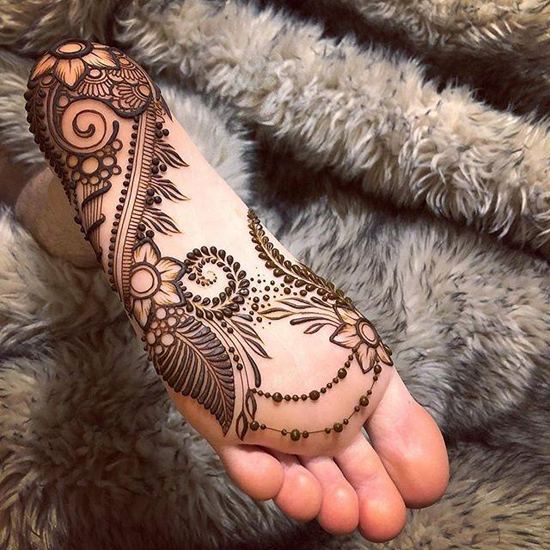 Every time you lift up those pretty feet of yours and take a few steps, show the world that you can do it in style! Decorate the lower feet with this gorgeous mehndi design and impress everyone with your attention to details. The pattern can be achieved by combining floral and leaf motifs with tiny dew drops. Make sure the heel is decorated well, as it is the most visible part of your feet.
15. Colorful and Glittery Leg Mehndi Design: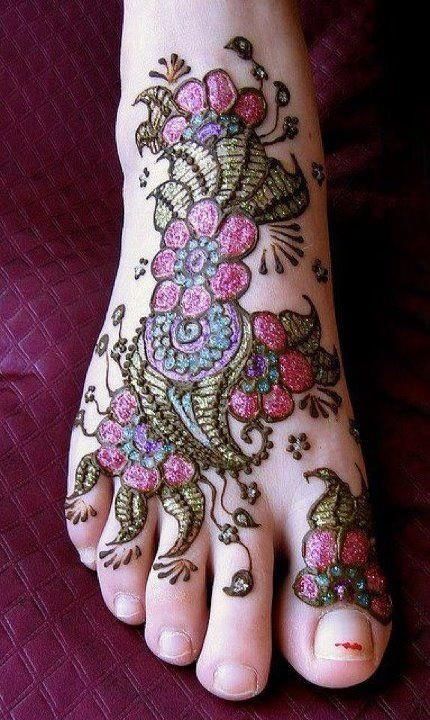 Add some sparkle to your mehndi and convert into an Instagram worthy body art! To do this, pick some body glitters in bright colors likes pink, blue, violet etc. Now make a base with your regular mehndi cone and leave enough space inside the motifs to fill them up later. Now carefully start adding colors into the gaps and use the tip of the tube to spread it evenly. Lo! You can now start clicking pictures and earn tons of likes!
We hope you loved this compilation latest leg mehndi designs! You can use these images for reference and improvise them with your creativity. If you are a Mehndi artist and would like to share your ideas with us, do let us know! We'd happy to give you a shoutout!