Most of us think that the traditional Mehndi ritual is designed only for the brides! Absolutely not! Even grooms get their Mehndi done, primarily to cool up the body (from all the stress) and hey, it's their wedding too! If you are a groom-to-be, then it's time to kickstart a new trend in the family by ditching the boring couple initials and trying out these uber cool ideas instead.
In this article, we have curated 15 best Mehndi designs for Grooms which are minimalistic, elegant and just what you need to amp up your celebrations!
15 Best Mehndi Designs for Grooms:
Let us look into the trending Dulha Mehndi designs for some inspiration:
1. Groom of the Bride Design: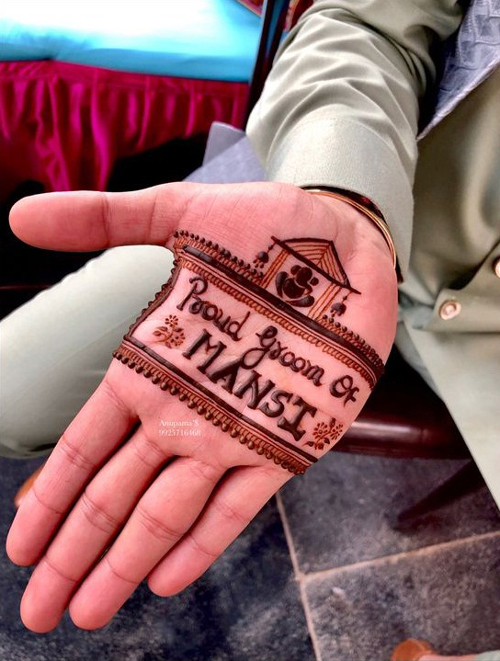 The millennial men are no longer shying away from changing their identity to "Groom of someone". Yes! This mehndi design for Dulha says it loud and clear! The minimalistic pattern features a decorated message box with the words "Proud Groom of Mansi". You can personalize the names, borders, fonts and even the language. Show this to your bride and earn her respect for a lifetime!
2. Edgy Geometric Mehndi Design: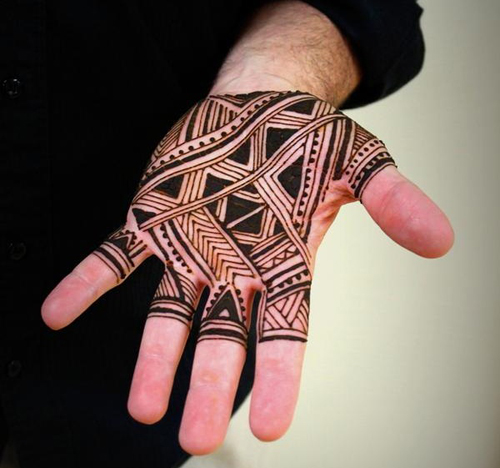 Your choice of Mehndi design can be an extension of your personal style and attitude! Here is one such Groom's Mehndi idea that is edgy, stylish and anything, but boring! The symmetrical geometric pattern fills your palms with some groovy lines that can capture anyone's attention instantly. It is also a refreshing change from the old-school designs and is worth a "pin it"!
3. Minimalistic Dulha Mehndi: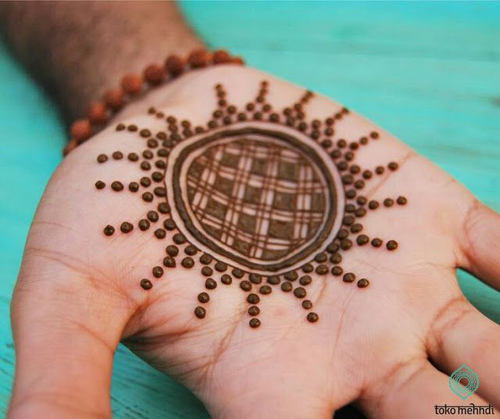 We know you hate competing with your bride, especially in Mehendi! So, we have curated this simple and elegant Groom's mehndi design that covers your palms, without giving you an over-the-top feeling. The circular pattern is filled with checks and adorned with dots, that resembles a Mandala as a whole. You can add initials or leave it just the way it is!
4. Thumb Side Mehndi Design: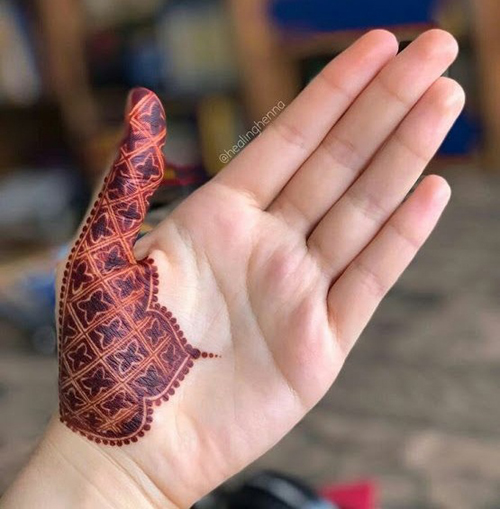 If you are not a big fan of covering your entire palm, try this elegant style! The Dulha mehndi design is done only on the thumb and the area below it. The unique sketch features a scalloped pattern filled with checks and identical motifs inside. Tiny dots highlight this area and make it appear strikingly beautiful. Each time you open or close your palms, this beautiful design is revealed to the onlookers!
5. Simple Mandala with Names: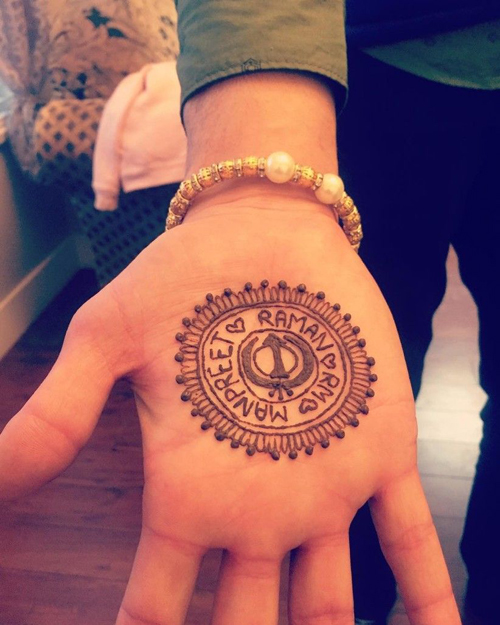 Here is another popular Mehndi design for grooms who want to play it safe! The simple circular mandala is filled with the names of the bride and groom, along with initials. The central part features the religious symbol of the couple in an attempt to honour their traditions. Adding the pretty lacy design on the outer part gives it an attractive look.It sure is an old but gold idea to decorate your palms for your wedding day!
6. Polynesian Dulha Mehndi Design: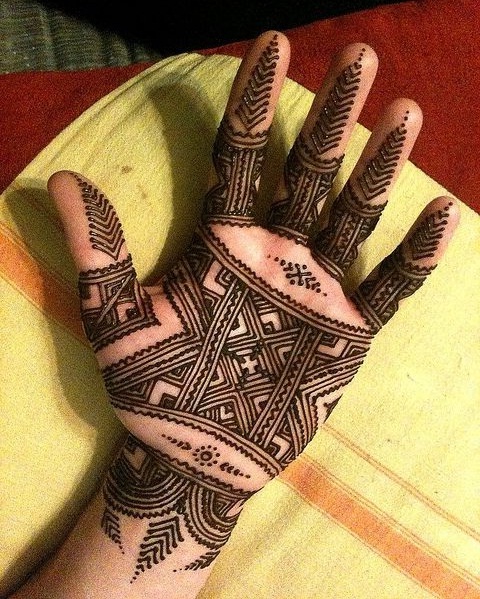 If you want to stay away from the typical bridal or wedding designs, go for this unique Polynesian mehndi design. The freestyle patten is made with sharp and well-defined lines to create a beautiful geometric pattern. Also, the fact that it has no florals, dainty motifs and other feminine elements make this design more appealing to the men folk! So, do ask your Mehndi designer for such ideas!
7. Wrist Cuff Mehndi for Men: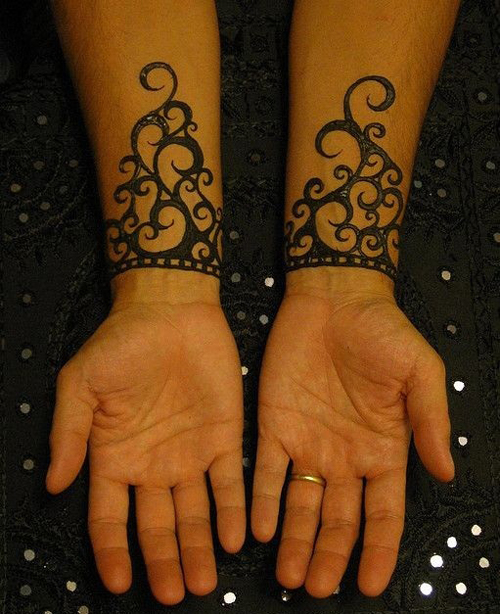 Here is another idea worth stealing! The stylish and oh-so-chic Mehndi design is done on the wrist to lend a cuff like appearance. You can use these circular patterns, lines or even a few motifs from the classic Arabic mehndi to create intricate designs. The idea is to highlight only the wrist part, keeping the rest of your palms clean. Also, you can wear a statement watch which sits well against this decorated background.
8. Finger Mehndi Design for Grooms: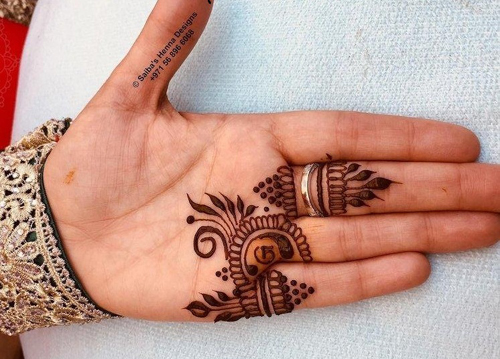 For those who prefer going the "less is more" way, this finger mehndi design can be a perfect pick! Instead of saying "No" to a Mehndi, you can try this stylish pattern that only highlights your fingers and that too, minimally! You can choose just one finger or a couple of them and add a few patterns. Another trending idea is to highlight the area around your engagement ring with a delicate pattern of lines and dots.
9. Arabic Mehndi Design for Dulha: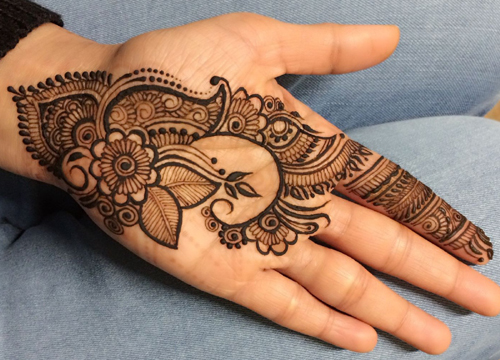 No matter how many newer patterns and trends are coming up, nothing can quite match the elegance and intricacy of an Arabic Mehndi design. Although it's a popular pick by the brides, even grooms prefer this style for its delicate and beautiful look. Here is one such idea which features typical Arabic motifs like flowers, leaves and dots. You can choose to cover the entire palm or keep it to just one side for a sober look.
10. Mandala Design for Men: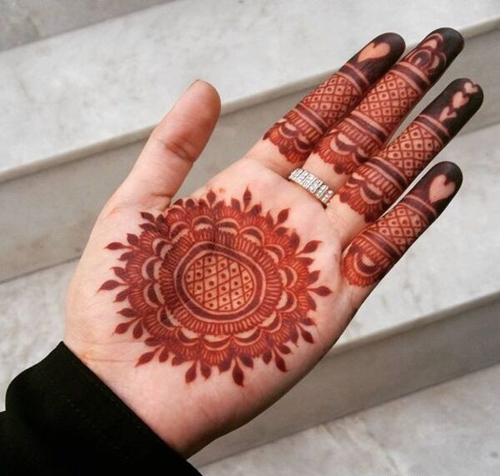 A Mandala design is one of the most preferred patterns for Groom's Mehndi. The highly complex and intricate circular pattern features a number of artistic styles. There is no rule book for a Mandala and you are free to use abstract symbols or motifs of your choice. If you are not a fan of going for a big circular pattern, try a semi-circle on one side of the palm. Also, highlight your fingers with the same design to maintain a consistency of the theme.
11. Tattoo Style Mehndi Design for Men: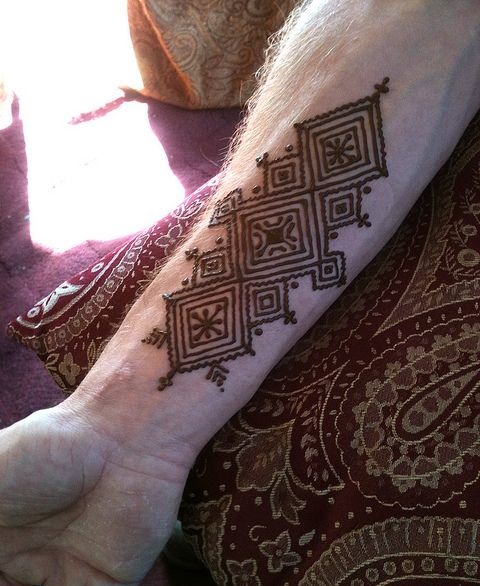 Tell your Man, it's a Mehndi session and he will run away! Tell him it's a tattoo and he will have a spark in his eyes! Here is a different take on the regular Groom Mehndi design which is inspired by the Polynesian Tattoo. The pattern features an array of geometrical lines to form this symmetrical pattern on the wrist. This temporary tattoo can be also done on the dorsal side of your palm for added style!
12. Ganesha Mehndi Design for Grooms: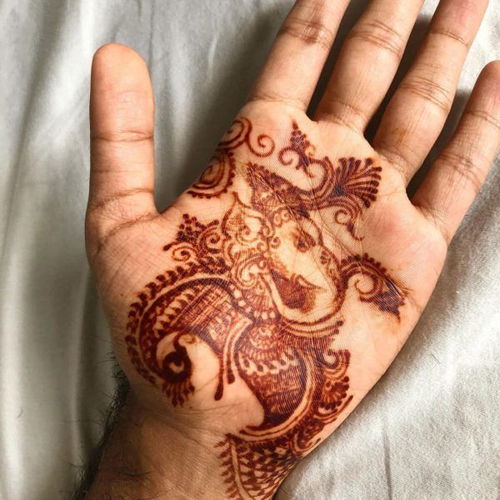 Kickstart your wedding celebrations by paying homage to Lord Ganesha, the remover of obstacles with this unique Mehndi design. The artistic pattern features a highly detailed Ganesha sitting on an inverted peacock. The shapes are take from the traditional Arabic style Mehndi and sketched in a free-hand format. You can choose to fill the fingers or keep them plain inorder to highlight this beautiful piece of art!
13. Dulha Dulhan Name Mehndi Design: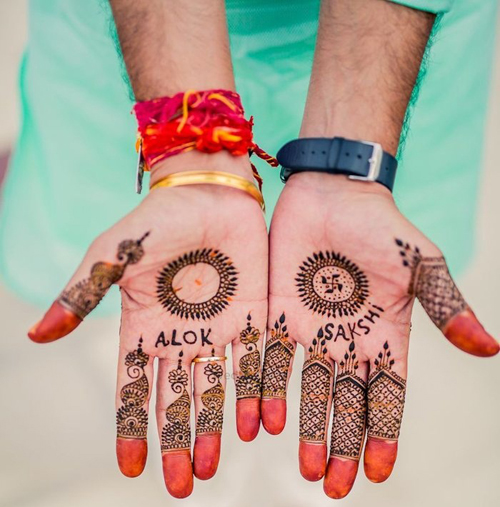 The Dulha Dulhan style Mehndi can never go out of fashion! This pair Mehndi design features the names of the bride and groom on two palms. You can either go for separate designs on the two hands or go for half-and-half style that becomes complete when are brought closer to each other. Notice how the fingers are decorated well, keeping the palms minimally done. This is a clever way to highlight the names, instead of concealing them in the motifs.
14. Heavy Mehndi Design on Two Hands: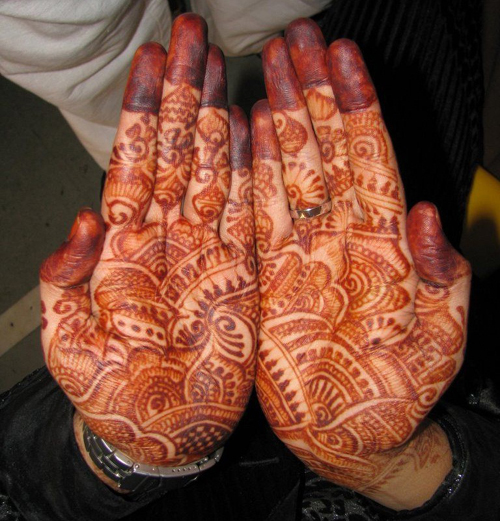 Give your bride some serious competition by choosing this heavy Mehndi pattern! It is as grand as a bridal Mehndi and a perfect way to show your excitement for the new beginnings. The two hand Mehndi design features an array of Arabic style symbols and motifs that bring in festive vibes. Even the fingers are highlighted in solid Mehndi which is a way to tell people that you are the groom and it's your big day!
15. Portrait Mehndi Design for Grooms: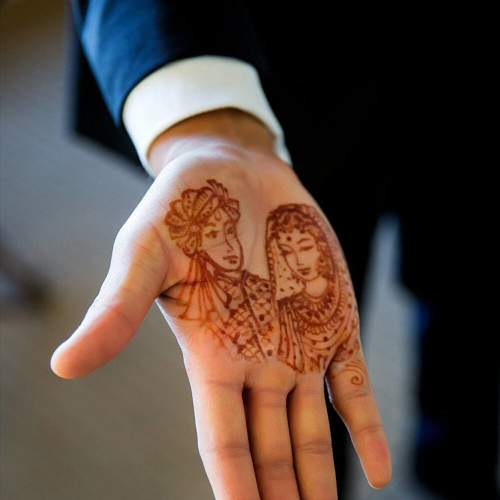 How about getting your wedding Portrait done on your hands? Sounds quirky? Then take a look at this design that features a handsome couple posing for the crowd. The bride and the groom are decked up in their finest silks and jewellery to start an exciting journey together. You can either go for a standard design or your own portraits, if you are lucky enough to get an experienced Mehndi artist. Sounds like fun?
With so many types of Mehndi designs for grooms to choose from, why stick to the routine? Try something different and impress everyone with your unique taste. After all, it's the biggest day of your life and the best time to shine bright!