Satellite data reveal open-air gym slab was laid inside FTL boundary of Ramantapur Chinna Cheruvu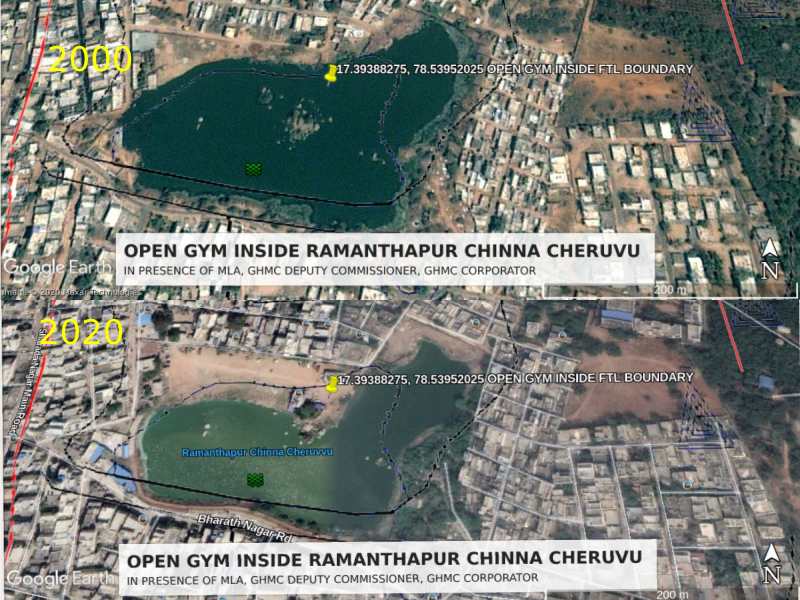 Hyderabad: Satellite data captured by Google Earth between 2000 and 2020 has revealed that the huge slab of the recently inaugurated open-air gym has been laid inside the FTL boundary of Ramantapur Chinna Cheruvu in Hyderabad. The area is part of the lake which has been encroached by land sharks since two decades. The open gym slab was inaugurated on June 20, 2020 by MLA Uppal, Deputy Commissioner GHMC Uppal and Corporator Ramanthapur
Water spread area of the Cheruvu has been seriously compromised by not evicting the landfills and allowing constructions inside the lake.
Given below is the Satellite imagery of May 27 2000 where a large extent of water spread is observed. Black lines indicate the FTL boundary of the lake, inflow and outflow channels, and bund of the lake. The yellow icon is the place where the open gym is being constructed.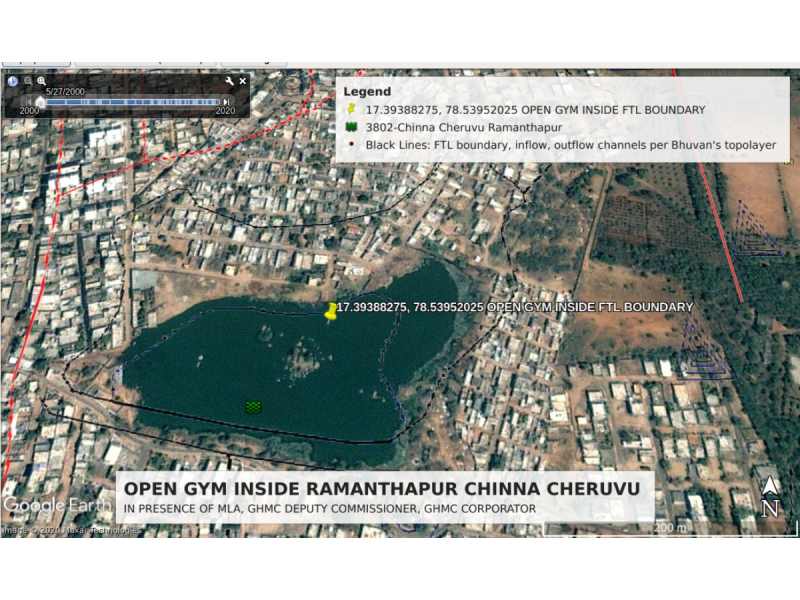 Now the second satellite imagery is dated April 26, 2003, with Bhuvan's water management system layer overlaid. When compared to the above image from 2000, we can observe a considerable landfill inside the lake.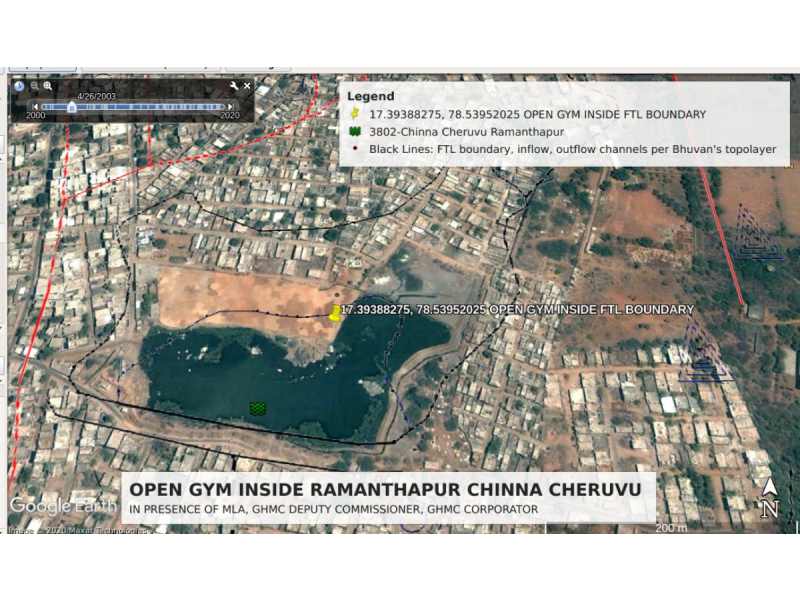 The third image is dated December 5, 2014. Constructions inside the FTL of the lake can be observed.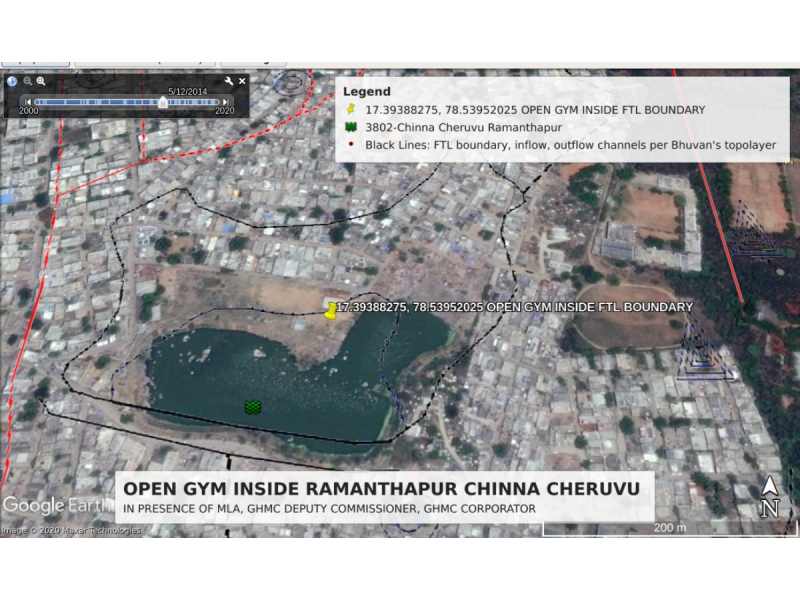 The latest available satellite imagery is of April 12, 2020. Between 2014 and 2019 active construction activities inside the FTL boundary of the lake is observed.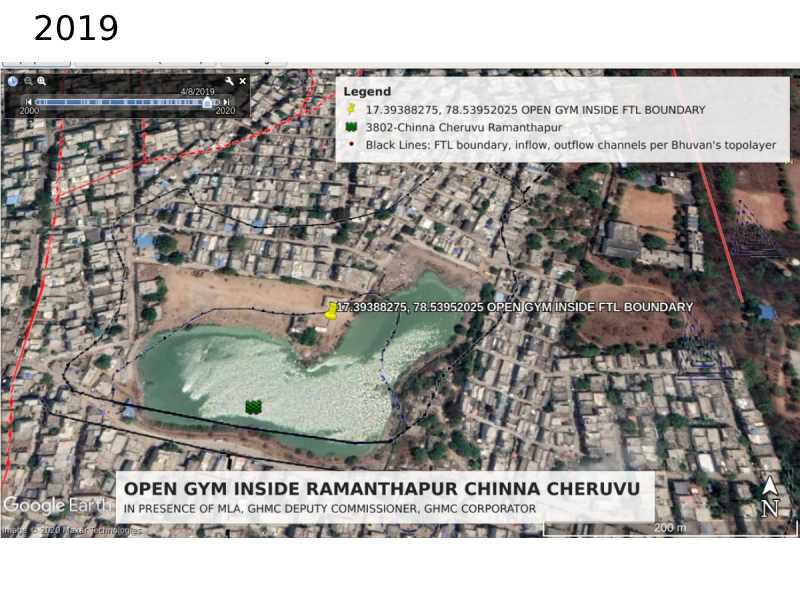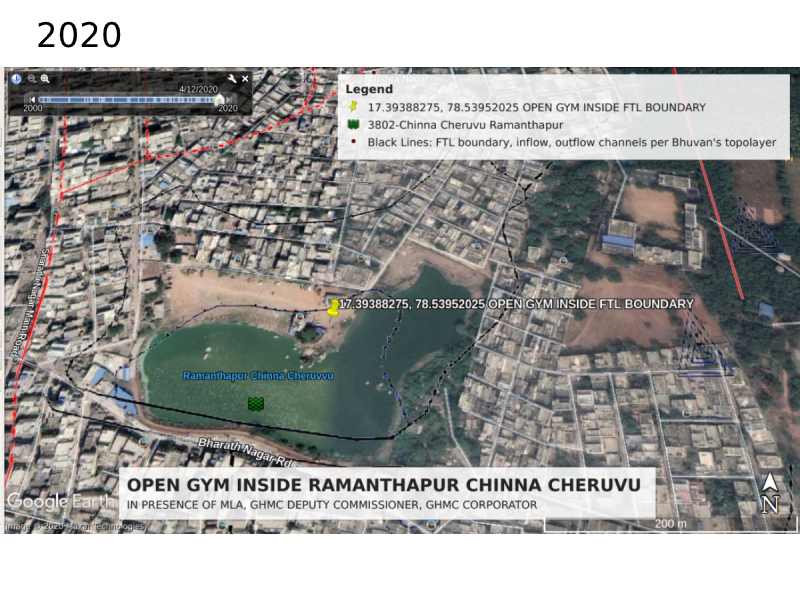 "In spite of representations to officials, the open gym huge slab was inaugurated on June 20, 2020. This is an attempt to accommodate the massive landfills," said Dr. Lubna Sarwath
The area of the lake was 27.25 acres in 2000. It was demarcated as blank in one FTL map and shown as 11 acres in another FTL map in 2013 and 2020.
Ramantapur Chinna Cheruvu is notified as Lake ID 3802. Lake has been surveyed on December 28, 2013. A preliminary notification was issued on 7.6.2014. But the final notification is yet to be issued.
Lokayukta ordered a joint inspection of Chinna Cheruvu Ramantapur in February 2014. Encroachments and huge land deposits inside FTL boundaries were brought on record and submitted by officials to Lokayukta.
A representation from fishermen society was submitted on June 17, 2020 to MRO, Uppal and Deputy Commissioner, Uppal appealing to stop gym construction and restore the lake for fishing purposes.
Here is an image from field survey conducted by Dr Sarwath on 19 June, 2020. The huge slab laid inside FTL boundary for open gym and a temple which is already an encroachment inside lake and vehicles parked inside FTL boundary can be seen in the image.